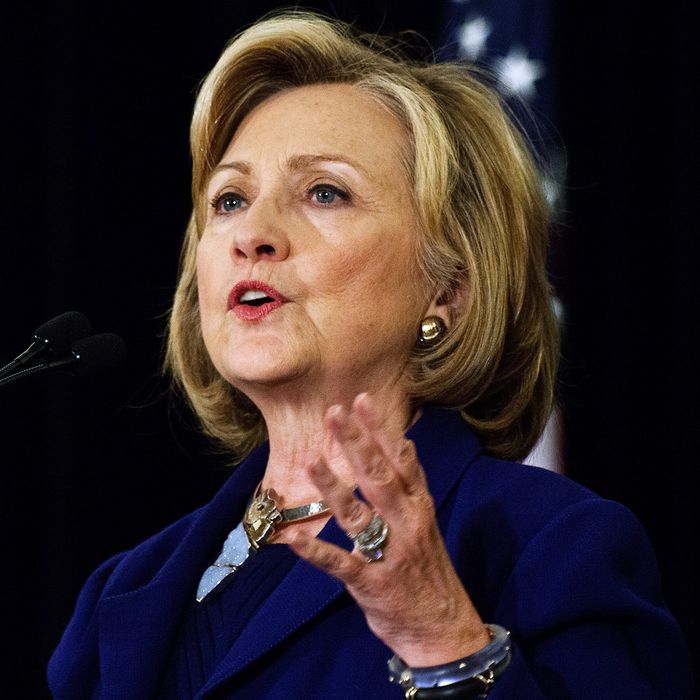 Photo: Bryan Thomas/Getty Images
This year is shaping up to be a banner one for women in politics. There are finally 100 women in Congress. Hillary Clinton has emerged as a seemingly unassailable front-runner in the Democratic presidential race, even if she's dragging her feet on declaring her candidacy. But wait! Enter the Pew Research Center to point out just how far the United States lags behind other high-income countries in terms of getting women into office, even given the recent gains.
The short version is that we're dismal on elected positions, if somewhat less dismal when it comes to politically influential positions more broadly. A woman has never sat in the Oval Office, of course, putting the United States behind 63 other nations with past or present female heads of government. That includes rich countries like the United Kingdom, low-income countries like Madagascar, and middle-income countries like India, where a woman has held the office of president or prime minister for more than 20 out of the past 50 years.
The United States looks a little better — but only a little — judging by women's participation in the legislature, with women currently holding about 20 percent of national-level seats. That figure puts us in 33rd place out of the 49 high-income countries, Pew found, using data from the World Economic Forum. Looking at a broader range of countries, we rank 75th out of 137 as of 2015 — behind Rwanda, Bolivia, and South Africa, as well as the usual suspects like Sweden and Andorra.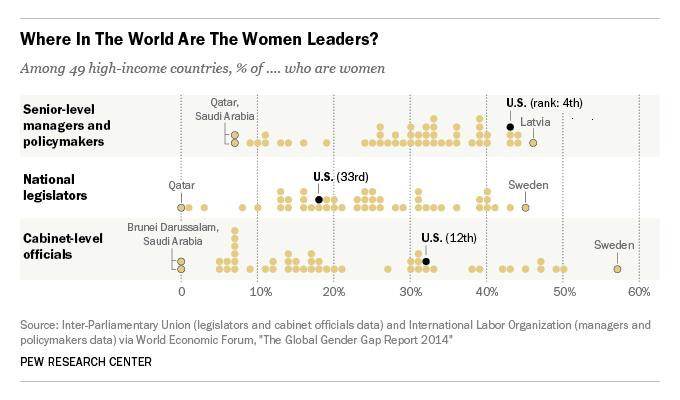 Pew also analyzed a broad set of International Labor Organization data on the proportion of women that are "legislators, senior officials, and managers" in different countries — that means women who are "lawmakers and other government policymakers, corporate managers, and top officials of unions, political parties, special-interest groups, nonprofits and other such organizations." The United States performs significantly better on that metric, tying for 16th out of 125, along with Namibia. And examining the share of appointed ministerial or cabinet-level positions held by women, we come in 25th out of 141.
What explains the dearth of women in American politics compared to their relative abundance in non-elected positions of influence? Thankfully, bias does not seem to be the primary cause. The media have gotten a lot better about refraining from stereotyping female candidates, and most Americans say that they are perfectly happy to vote for qualified women running for office. A Pew survey also found that Americans saw some distinctive advantages to female politicians, including viewing them as being better at working out compromises, being honest, trying to improve the quality of life, and standing up for their beliefs.
But voters clearly believe there are a few things holding women back — including the fact that women might be held to higher standards by voters and a feeling that the country is simply "not ready to elect women leaders," squishy though that answer might be. Political scientists point to another big problem: not enough women running for office in the first place. But Democrats and Republicans are both paying a lot more attention to building up pipelines of female candidates and nudging women to run. Even with Hillary on the ticket, the country has a lot of catching up to do.