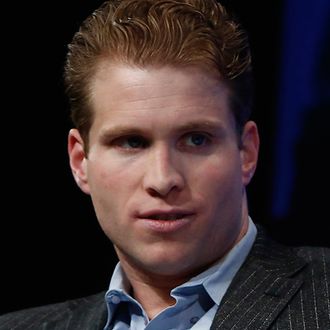 Photo: Brian Ach/Getty Images
Last week, 24-year-old Elise Clougherty, a Stanford neuro-engineering graduate and former Ford print model, filed a lawsuit against Joseph Lonsdale, a powerful Silicon Valley entrepreneur who, along with Peter Thiel, co-founded the secretive data-mining company Palantir Technologies. The graphic suit alleges that from February 2012 to February 2013, Lonsdale took advantage of his position as Clougherty's mentor in a Stanford mentorship program to physically, emotionally, and sexually abuse her. 
Less than two days after Clougherty's suit was made public, Lonsdale set up a defense website featuring a long letter that framed Clougherty as a vindictive ex-girlfriend with mental issues whose overbearing mother was intimately involved in her life. He then filed his own defamation countersuit, claiming their relationship was consensual and furnishing email correspondences and a signed statement from one of Clougherty's close friends to discredit her allegations.
Lonsdale doesn't come with the mysterious mythology that surrounds Peter Thiel or have the name recognition of Mark Zuckerberg, but despite being only 32 years old, he's well established among Silicon Valley's elite. A Stanford grad himself, Lonsdale co-founded Palantir in 2004 and served as the co-head of product before leaving in 2009 to found Addepar, a financial software company. In 2013, he launched Formation 8, a venture capital firm that is also named in Clougherty's lawsuit. An outspoken libertarian, Lonsdale has been named as a member of Rand Paul's "nascent finance team" and has hosted fund-raising events for the potential presidential candidate. Largely considered one of Thiel's protégés, he's also a proponent of seasteading and served as chairman of the Seasteading Institute.
Clougherty, who is currently pursuing a masters in data science at UVA as well as working as a gender violence activist, alleges in the suit that after meeting through mutual friends and maintaining a professional and sporadic email correspondence, Lonsdale specifically sought her out as a mentee in Stanford's technology entrepreneurship mentor program. Though Clougherty had already been assigned two mentors, Lonsdale allegedly convinced the professor running the program, a friend, to reassign Clougherty to be his mentee. He arranged an internship for Clougherty at Formation 8 in the summer of 2012, where he served as her direct boss.
"Mr. Lonsdale took advantage of his position of power and Ms.Clougherty's youth and trusting personality to draw her into a highly deviant, abusive, and controlling relationship during which he perpetrated hundreds of non-consensual, and often violent, sexual acts upon her," reads the suit.
When Clougherty attempted to confront her mentor about his abuse, he would react violently to keep her from protesting; on occasion, he would admit to his abuse, "but claimed that he had a sickness, that he could not control himself, and that he needed her help to change."
Clougherty's civil suit, which seeks at least $75,000 in damages, details graphic and upsetting claims of abuse stretching across the U.S. and Europe. Among those claims:
"

On the night of their first sexual encounter, Ms. Clougherty believed that Mr. Lonsdale was picking her up from campus to go to dinner in Palo Alto to discuss her team's project. Instead, Mr. Lonsdale drove her back to his home in Los Altos Hills. Shortly after arriving at his house, he started to kiss her aggressively and to try to take off her pants. Despite Ms. Clougherty trying to avoid him and pushing his hands away from her crotch at least a half dozen times, Mr. Lonsdale persisted. Mr. Lonsdale then pulled Ms. Clougherty into a bedroom where he took off her clothes and his pants, and began to penetrate her with his flaccid penis. During this episode, Mr. Lonsdale acted as though he were not doing anything wrong and made comments insinuating that Ms. Clougherty had wanted the sexual

 

contact."
"In the following weeks, Mr. Lonsdale repeatedly continued to force Ms. Clougherty to have sexual contact with him without her consent. From very early on, Mr. Lonsdale repeatedly told Ms. Clougherty that it was women's nature to enjoy being raped, especially if they are raped by a man with greater

 

means."
"Before [a trip to London], Mr. Lonsdale told Ms. Clougherty that he had booked two hotel rooms — one for him, and one for her. When Ms. Clougherty arrived in London to meet him, she discovered that he had booked only one room. In London, Mr. Lonsdale continued to force her to have sexual contact with him without her consent. Throughout the trip, Mr. Lonsdale deprived her of both food and sleep by scheduling late night and early morning activities, delaying meals, not ordering her enough food, and other such

 

tactics."
"On the last evening of [a trip to] Rome, Mr. Lonsdale forcibly raped Ms. Clougherty. In their hotel room, Mr. Lonsdale penetrated her with several fingers, and then abruptly started penetrating her with his erect penis. She immediately pulled away from him. He then grabbed her and penetrated her again. She immediately pulled away a second time and ran into the bathroom, where she locked the door and cried for several

 

hours."
"To control Ms. Clougherty, Mr. Lonsdale employed many forms of psychological manipulation and control on her, including but not limited to 'positive intermittent reinforcement,' 'gaslighting,' isolation, sleep deprivation, food deprivation, anger, embarrassment, and

 

guilt."
"Mr. Lonsdale repeatedly commented to Ms. Clougherty that women needed to be raped to learn to be loyal and that they really enjoyed being raped more than they let

 

on."
"During intercourse, he would regularly shake Ms. Clougherty violently and would not stop, despite her protests, until she promised she would always 'listen to her master.' In addition to shaking her violently during sexual assaults, he also began strangling her, slapping her, scratching her, yanking her by the hair so hard that he would lift her torso off the bed, and slamming her body against the walls and bedboards. He would growl and yell derogatory comments at her. He frequently covered her face with a pillow or pushed her face to the side so that she could not look at him. Mr. Lonsdale also often treated Ms. Clougherty's body like an object — for example, grabbing her head and using it to push open a shower

 

door."
"Mr. Lonsdale typically forced Ms. Clougherty to have sex several times a day — on some occasions, as many as ten or more times a day. When Ms. Clougherty was on her period, Mr. Lonsdale's attacks were especially frequent. He often would not let her buy tampons and seemed to relish getting her blood everywhere — on her clothing, bed sheets, hotel furniture, car and bus seats, and elsewhere. He would not let her clean up the blood, and would get very angry with her if she tried to clean it up. On one occasion, in a hotel room, he even picked up her naked body and made her sit on the hotel furniture so as to smear her blood all over

 

it."
The relationship ended in February 2013 when Clougherty's mother found out about the alleged abuse and they decided to report it to Stanford. The school hired an outside investigator to delve into her claims. The investigation found that Lonsdale had likely violated Title IX and that it was "more likely than not that [Ms. Clougherty] expressed to [Mr. Lonsdale] that she did not want to engage in the sexual conduct in question, but that [Mr. Lonsdale] did not comply with [her] request."
Lonsdale, for his part, categorically denies all of the claims in Clougherty's lawsuit. "This is a malicious attempt to destroy me, pure and simple," he wrote on his website. "The facts and the evidence refute every allegation, however, and I will not allow my name and reputation to be tarnished any further." His counterclaim, filed on January 30, states that Clougherty is capitalizing on the brewing discussion of campus sexual assault in order to discredit him.
After ending the relationship, the suit states that Clougherty was forced to undergo medical leave from Stanford so she could be treated for her resulting PSTD, but graduated in 2013 after completing her treatment.
Update: Formation 8 said in a statement: "These allegations are inconsistent with the partner we have come to know over the past few years. Moreover, we have very clear employment procedures at Formation 8, and Ms. Clougherty was never an employee of Formation 8."