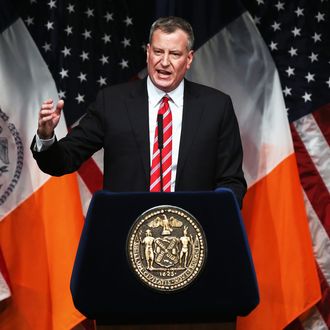 New York City Mayor Bill de Blasio gives the State of the City address at La Guardia Community College on February 10, 2014 in the Long Island City section of the Queens borough of New York City. In his first address as Mayor of New York, de Blasio plans to outline his vision for fighting the widening income inequality gap and intends to urge lawmakers to raise the minimum wage.
Photo: John Moore/Getty Images
For the site of his first mayoral state of the city speech last February, Bill de Blasio picked La Guardia Community College. He was introduced by La Guardia's granddaughter. And if the populist symbolism still weren't clear, de Blasio mentioned La Guardia by name five times to bolster his declaration that a new era of fairness and idealism was dawning.
Tuesday morning, the mayor will deliver his second SOC, and the location — Baruch College — is again an appropriate fit. Bernard Baruch was a complex figure — he made a fortune speculating on Wall Street before turning to philanthropy — and de Blasio's second year is shaping up to be just as complicated as his first. Maybe more complicated, given the chaos in Albany.
Here's what to look for in the mayor's speech:
• Self-congratulation vs. self-criticism. All "states of" speeches — whether presidential or gubernatorial or councilmanic — serve as ads for the good stuff a politician has done. De Blasio has plenty to point to from his rookie year: The smooth implementation of an expanded pre-kindergarten program, the launch of a city I.D. card, the signing of contracts with dozens of civil service labor unions. Worthy as those things are, you can't just play the hits from your first album forever. It will be a healthy sign if de Blasio also touches on the misses, from his failure to win higher taxes on the rich to his battles with punctuality.

• Does he confront the tough stuff? No issue has bedeviled mayors longer than homelessness. Yet de Blasio, at least numerically, has topped them all: The city's homeless population increased by 10 percent last year, to a record 60,000.

The mayor is right about some of the fundamentals he inherited — too few affordable apartments, too low wages — and he's chipping away at both. De Blasio has also increased spending to head off evictions. On Tuesday, he's expected to prioritize moving 1,000 homeless military veterans into stable apartments. But finding permanent housing has proven both slower and more expensive than he'd like, and no matter the underlying causes, the mayor needs to find ways to improve the conditions in swollen shelters.

• How does he try to shape the narrative? One of de Blasio's favorite words is framing. After a year of distractions and controversies, he very much wants to return to his core campaign brand: tackling income inequality. So just as the mayor set enlarging pre-K and after-school programs as the dominant goal of his first year, he'll try to establish an increase in affordable housing as the big theme for his second. Not that de Blasio, with typical understatement, hasn't rung this bell before, calling his program "the biggest affordable housing plan anyone's tried anywhere at any time at the local level in the history of the republic."

Now he'll fill in the details — zoning rule changes, tax abatements — some of which will require Albany's help. The mayor and his administration have a pretty good batting average when they focus on a handful of tasks (and by highlighting one major priority, de Blasio will be drawing a not-so-subtle contrast with Governor Andrew Cuomo's recent wide-ranging State of the State speech). Unfortunately, this is a city where the unpredictable has a way of happening. Which brings us to …

• The cops. Over the weekend, de Blasio told the Associated Press that he'd moved past his confrontation with the NYPD. Well, that's one part of the equation. Certainly it's good that the police union histrionics have subsided. Most of the rank-and-file skepticism about de Blasio remains, however. "The real test will be what the mayor does the next time there's a crisis, like a controversial shooting," one high-ranking police official told me recently. "We'll see how much he supports us then."

De Blasio was never "anti-cop," but lately his public tone has been almost over-the-top pro-cop, like last week, when he denounced the payout of $5,000 to a man who'd attacked police officers with a knife and then sued the city for being shot. (Interestingly, de Blasio made a big fuss over that silly suit a day before the city quietly agreed to pay $3.9 million to settle a tougher case, the shooting death of Ramarley Graham.) Does de Blasio use a portion of his second State of the City to reinforce his praise of the men and women in blue?
Also: It wouldn't be a shock if the mayor works in a few snow jokes.