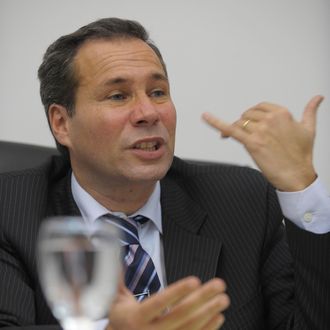 Photo: JUAN MABROMATA/AFP/Getty Images
Prosecutor Alberto Nisman drafted a warrant for the arrest of Argentine president Cristina Fernández de Kirchner shortly before being found dead in his Buenos Aires apartment, the New York Times reports. Nisman had been investigating the 1994 bombing of a Jewish center, the Argentina Israelite Mutual Association, in which 85 people were killed. His body was found on the day he was scheduled to reveal evidence indicating that de Kirchner had refused to blame Iranian officials for the attack, apparently because Argentina wanted to preserve a trade relationship with Iran. 
According to the Times, the 26-page document, which also called for the arrest of Foreign Minister Héctor Timerman, was found in Nisman's trash:
Viviana Fein, the prosecutor investigating Mr. Nisman's death, confirmed on Tuesday morning that Mr. Nisman had prepared the draft of the warrant requesting the president's arrest. Confusion about the document had emerged when Ms. Fein had initially denied its existence, after the newspaper Clarín published an article on Sunday about the draft.

Mrs. Kirchner's cabinet chief, Jorge Capitanich, tore up the article before reporters on Monday. But then Ms. Fein corrected her earlier statement and confirmed the existence of the draft, which Clarín said was prepared in June 2014, more than six months before Mr. Nisman went public with his accusations against the president.

"The words I should have used are, 'It's evident that there was a draft,'  " Ms. Fein said in comments broadcast on Argentine radio.
While de Kirchner's administration, which was unsurprisingly critical of Nisman's investigation, initially said that the prosecutor had killed himself — he died from a bullet wound, and a gun was found next to his corpse — de Kirchner later said that she was not convinced that his death had been a suicide. She went on to suggest that foreign agents had "used" Nisman by feeding him false information about her actions after the AMIA incident. Stay tuned.