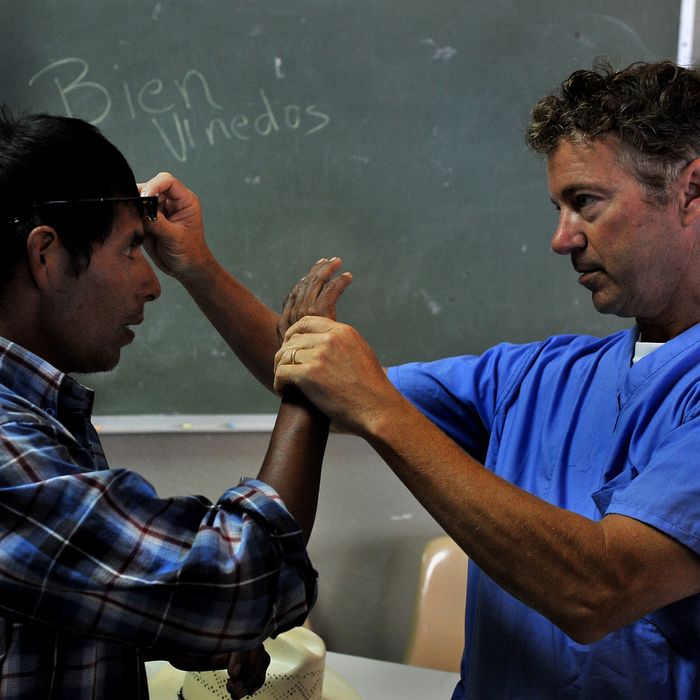 Just take some leeches and stay away from the vaccines.
Photo: Michael S. Williamson/The Washington Post via Getty Images
Today was vaccine day, thanks to Chris Christie's oddly equivocal interview on the subject. Vaccine trutherism is a form of unscientific craziness that has mostly lacked any partisan profile, as it brings together anti-government paranoia shared more by the right than the left with anti-corporate paranoia shared more by the left than the right. But the scent of crazy in the air inevitably attracted Rand Paul, who gave a disturbing interview to CNBC.
First, displaying the rigid libertarian logic that has previously caused him to refuse to fully endorse the 1964 Civil Rights Act, he argued that vaccination must be voluntary, which kind of runs against the inherent way vaccination works. (A handful of cranks who refuse can mess it up for everybody else, which is exactly what's happening now.)
More crankishly, Paul actually endorsed the belief that vaccines can cause autism. "I've heard of many tragic cases of walking, talking, normal children who wound up with profound mental disorders after vaccines," he argued very, very wrongly.
Rand Paul is a doctor, for goodness' sake.