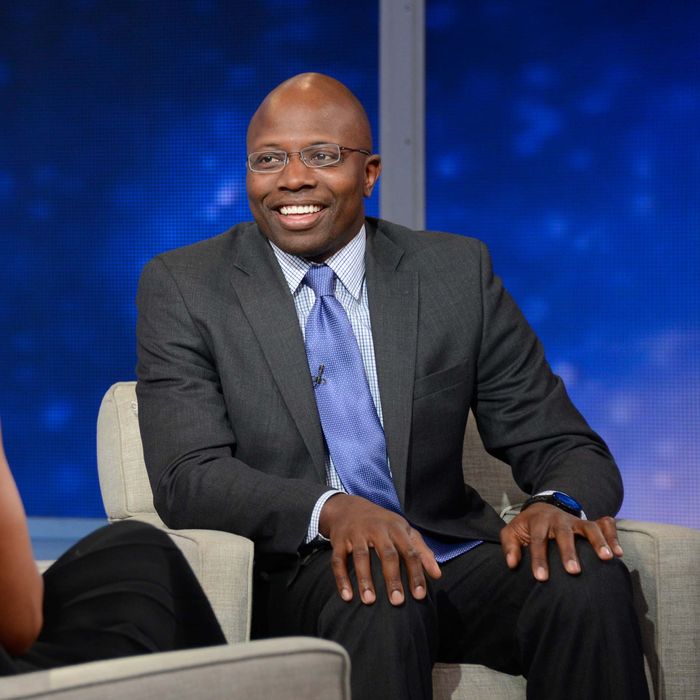 Former 'body man' to President Obama Reggie Love during an interview airing on Good Morning America, on February 4, 2015.
Photo: Ida Mae Astute/ABC
"Did you actually read the book? No, you did not," Reggie Love says teasingly, as he scans the cocktail menu at a Mediterranean restaurant in downtown Washington. This is not where we planned to go. I first asked to meet Love, who's written a memoir of his time serving as the president's body man and personal assistant, at a fratty Irish pub near George Washington University called McFadden's. It was there that Love briefly supplemented his $28,000-a-year salary as a staff assistant for a freshman senator named Barack Obama by working nights as a bouncer, but the bar closed in December after a grisly multiple victim stabbing incident — so that was out. Then we planned on meeting at the site of his first apartment in D.C., at the corner of 9th and G streets. But we never confirmed which quadrant to meet in, so he ended up northeast and I ended up in northwest, which is how we found ourselves ordering drinks at Zaytinya on a Thursday afternoon.
Love, now the 33-year-old vice president of a financial holding company, is dressed smartly in a Golden State Warriors cap and fitted dress shirt with his last name embroidered on the cuffs. His memoir is kind of a political coming-of-age tale, and it's by far the most fun political memoir to come from the Obama administration, perhaps because it's not really about politics. "I was his DJ, his Kindle, his travel agent, his valet, his daughters' basketball coach, his messenger, his punching bag, his alarm clock, his vending machine, his chief of stuff, his note passer, his spades partner, his party planner, his workout partner, his caterer, his small forward, his buffer, his gatekeeper, his surrogate son, and ultimately, improbably, luckily, his friend," he writes.
"I wanted the book to be an evergreen," he says, waiting for his gin with extra ice. "I wanted someone to be able to pick up the book with a high level of political knowledge or a low level of political knowledge, read it, and get something out of it about political engagement." Love still looks and talks like the former basketball star he was, and the book is meant to convey the principles that matter most to him — "The five Ps: passion, purpose, persistence, patience and perspective," he says, ticking them off on his fingers. "When I was 18, there was nobody out there that I looked to who was talking about these kind of things."
Love's book is the bro-iest portrait of the president yet, but maybe also the most humanizing. He shows the president trash-talking about basketball backstage at a campaign event before being called away by the roar of the crowd and fist-bumping Love the moment before he steps onstage to be sworn in as the nation's first black president. "In many ways I became the president's touchstone for normalcy," he writes. The long hours (Love would usually wake Obama shortly before dawn) were not without their personal perils. Love writes about the time the president barged into his hotel room one morning while Love was getting ready. Obama was busy chattering about the schedule, Love writes, "at which point the senator finally noticed my friend in bed, covers pulled up to her throat, mortified. 'Oh,' he said. 'I apologize.' Then he turned around and hurried out."
Reggie was not exactly surprised when that story found its way to the Washington Post a few weeks ago, but he did not like the headline: "The time Obama walked in on a staffer who had a friend in bed."  "I was just really pissed about the title of the story, because to say you have a girl in bed would imply that you're in bed with her. If you're not in bed with a girl, then they're actually in the bed by themselves." I ask him whether the headline falsely implied something, because if not, the distinction seems pretty Clintonian. "Yeah, it either implies that I own that bed or I am in the bed with her, which neither are true, and I hate — " an impish grin crosses his face, and he rolls his eyes, "Well, anyway. I'm not going to rant."
I ask Love if I can see the tattoos he got while on the campaign. He rolls up a shirt sleeve to reveal the one he got at a parlor at 1 a.m. during a campaign stop in Seattle. Marvin Nicholson, Obama's travel director and golf buddy, insisted on going with him, and the two of them arrived at the parlor to find the tattoo artist had locked himself out. They helped him break into his own place, and Reggie got "My Word, My Bond," inked on one bicep and "My Boyz, My Blood," on the other. After the election, Reggie and Marvin went back to the same tattoo shop and got matching 365 tattoos on their biceps — the number of electoral votes Obama had won, and after 2012 they got 332, for the number he won that year.
Love stayed with the president through most of that first term, but he eventually decided it was time to go back to school and get an MBA. "It definitely is life-changing," he says of his time with the president. "I'm fortunate because a lot of the things I've had the good fortune to do are 100 percent a function of having had the experience of working with him and being there." He says he's fine being known for the rest of his life as the guy who worked for the president — up to a point. "I want people to be like, 'Oh, he worked for the president and he's better than you.'"
Love says he's still sometimes in touch with the president, but he tries not to bug him. "I feel more compelled to be out of the way, partially because I'm sure that he doesn't want to hear me talking about, 'Oh yeah, I was in Park City for Sundance, and, man, it was great. We went skiing and then to this great restaurant,' and, he's like, 'Great. I'm glad you're having a good time. I flew to India, and we changed the schedule around. Then, I slept on a plane.'" And if any of his former staffers are adept at intuiting what the president wants, it's probably him.