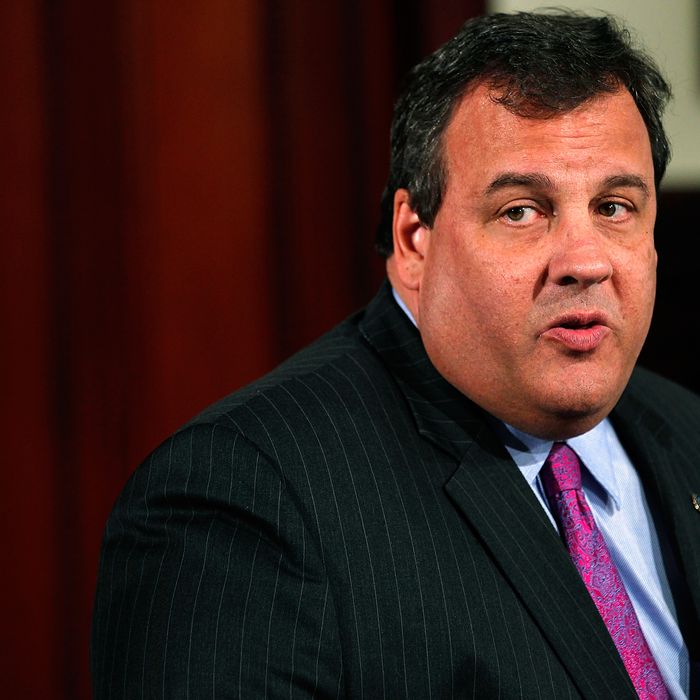 Photo: Jeff Zelevansky/2011 Getty Images
Chris Christie might want to look into getting some less high-profile friends. Once again, Christie's relationship with the casino billionare (and major GOP donor) Sheldon Adelson is under scrutiny, this time for possibly motivating the New Jersey governor to sideline a deal in Atlantic City. 
Business Insider reports that in July 2013, PokerStars, one of the world's largest online poker sites, announced its plan to bring a $10 million poker room to the Atlantic City Resorts Casino Hotel. Fast-forward to now, and the gaming site still hasn't been able to get a license to operate in New Jersey. (It's been waiting about eight months to get the preliminary waivers to start doing business.) The proposed deal would create an estimated 400 jobs in the beleaguered city, according to the Atlantic City press, though not all at once.
Critics are accusing Christie of stalling in order to aid Adelson's fight to ban online gaming, which Adelson is pushing for in Congress. One of Christie's primary critics, Jersey Democratic State Senator Raymond Lesniak, has said Christie's involvement was "apparent," and that claim has been backed up by a local casino union rep and some unnamed sources. Lesniak, who sponsored Jersey's online gaming law (which Christie signed in 2013) told Business Insider: "If PokerStars comes into New Jersey it's because they're the biggest and with our delegation, it would make it very difficult for Congress to do what Adelson wants to do."
PokerStars has its own shady history, but in 2014, it was acquired by a Canadian company that already had some gaming licenses in the state. The PokerStars deal is still apparently under review by the state, and Christie's camp also denies the allegations, citing his support of the online gaming bill. But it's probably not good news for Christie, who's already racked up quite a few inquiries so far.