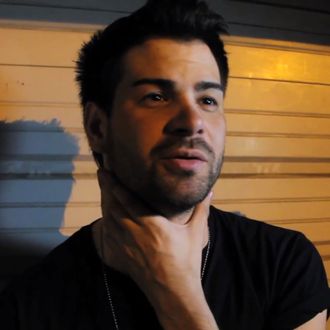 In December 2012, I met Hunter Moore, the notorious proprietor of revenge porn hub Is Anyone Up, at a bar on the Lower East Side, where he bragged about his "scary as shit" empire that made money off of posting the nude photos of women (and some men) without their consent. Three years later, he's facing seven years in prison, hundreds of thousands of dollars in fines, and the collective schadenfreude of revenge-porn victims everywhere.
In January 2014, Moore was indicted on federal hacking and identity-theft charges. Victims of his since-defunct site were relieved, but also disappointed: Sure, Moore had finally been arrested, but not on charges related specifically to the protection of revenge-porn victims, as many states' cyber-laws still haven't been revamped to confront the relatively new phenomenon. 
But on Wednesday evening, news broke that Moore had signed a plea deal copping to aiding and abetting hacking and aggravated identity theft, admitting that he paid hackers to steal nude photos from people's private computers so that he could post them on the site. As Forbes points out, this means that unless he backtracks on his guilty plea, he's definitely going to serve jail time. In fact, Moore could face "seven years imprisonment; a three-year period of supervised release; a fine of $500,000, or twice the gross gain or gross loss resulting from the offenses, whichever is greatest; and a mandatory special assessment of $200." His plea deal includes a mandatory two-year sentence in federal prison.
Moore isn't the only revenge porn proprietor embroiled in a legal battle. Craig Brittain, who operated the copycat revenge porn site Is Anybody Down, was ordered by the FTC in January to delete the entire site and was banned from posting nude photos to the internet ever again, unless given explicit permission by the photo's subject. And several lawyers from Pittsburgh recently teamed up to create the Cyber Civil Rights Legal Project, which has enlisted some 50 lawyers to help women who wish to file lawsuits against their tormentors.
Moore heading off to prison won't repair the damage Is Anyone Up and its ilk caused to its victims, but it certainly can't hurt.