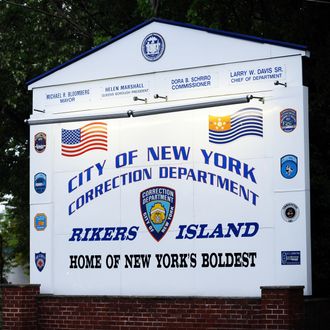 Photo: Jewel Samad/AFP/Getty Images
Rikers Island has been the subject of intense scrutiny for over a year, with the media frequently reporting on the widespread brutality and other dangerous conditions inside the prison complex. Mayor de Blasio, who has said that his administration is committed to making Rikers safer, appointed a new, reform-minded corrections commissioner last spring. Back in August, U.S. Attorney Preet Bharara issued a damning report on the abuse of Rikers's adolescent inmates, and the federal government announced its plan to New York City over the matter at the end of 2014. But despite all of the energy and negative attention directed at Rikers, the New York Times reports that the jail's culture of violence "has continued largely unabated."
From the Times:
According to Correction Department data, guards used physical force against inmates 4,074 times in 2014, the highest total in more than a decade. The increase came even as the jail's average daily population continued to decline, falling to 10,000 this year from 14,000 a decade ago.

Seventy percent of the 62 beatings examined by The Times resulted in head injuries, even though department policies direct guards to avoid blows to the head unless absolutely necessary. And more than half the inmates sustained broken bones.

In October, a typical month, one inmate had his jaw shattered by a guard after being handcuffed and led into an elevator; another had his arm broken while handcuffed; and a third had three teeth knocked out.

The Times also identified 30 episodes from August to January in which officers suffered serious injuries in altercations with inmates. While most of the inmates involved sustained head injuries, nearly half the guards fractured bones in their hands and fingers, often after striking inmates in the head.
The Times report on the corrections department's records, which can be read here, includes stories about the abuse and willful neglect of mentally and physically ill prisoners, as well as guards' subsequent efforts to cover up their horrifying behavior. In a statement, the department told the paper, "It takes time to undo decades of mismanagement. We are, however, on our way to a jail system that is safer and more humane."