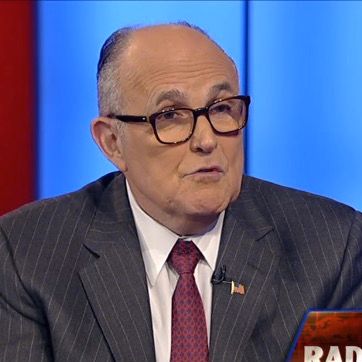 Where's my prime-time TV show?
Most weeks, New York Magazine writer-at-large Frank Rich speaks with contributor Alex Carp about the biggest stories in politics and culture. This week, the magazine asked him about a Bill O'Reilly non-scandal, Rudy Giuliani's comments, and the problem with the Oscars.
After digging in for days, Rudy Giuliani finally wrote a Wall Street Journal op-ed trying to roll back his attack on President Obama for insufficiently loving America. Chuck Todd called the media frenzy a "race to the bottom" for everyone involved and Mississippi governor Haley Barbour wondered why anyone should care. Is this the end of Rudy Giuliani as a figure with any real political influence?
That end came long ago — to put a fine point on it, during Giuliani's short-lived 2008 presidential campaign, surely one of the most farcical ever run by a candidate who was, for a time anyway, considered a top-tier prospect. (Chris Christie, however, shows signs of giving him a run for the money on this score.) Since then, he has mainly retreated to his consulting and legal business, where his patriotic clients have included the pharmaceutical company that pleaded guilty to lying about the addiction risks of OxyContin, and the government of Qatar, which has been accused of funding terrorism. When he periodically emerges to spew venom against Obama, he has all the public stature of Donald Trump — minus the hair and a prime-time television show.
This latest fracas was intriguing, to some extent, as a psychiatric case study. How weird was it for Giuliani to accuse Obama of not loving America when his own love for America was demonstrated by his lobbying of President Bush to nominate Bernie Kerik as Secretary of Homeland Security. If Kerik, a corrupt Rudy crony, had actually ascended to that job, the very security of America would have been at stake. No less bizarre is Giuliani's dissing of Obama's childhood, purporting that the president had been influenced at a young age by Communists and socialists. In reality, Obama's maternal grandfather was a World War II vet, as was a great uncle who helped liberate Buchenwald. Giuliani's own father didn't serve in the war because he did time as a felon in Sing Sing. Rudy himself was as brilliant at securing Vietnam draft exemptions as such fellow chicken hawks Dick Cheney and Newt Gingrich.
If nothing else, this incident shows us that private GOP soirées in fancy venues will continue to be a boon to Democrats. The leaking of Giuliani's incendiary remarks — which he delivered at a private event for Scott Walker at the 21 Club — recalls nothing so much as the dissemination of Mitt Romney's "47 percent" monologue at the Boca Raton home of a private equity baron. No Republican politician who spills his true convictions to a room of fat cats may be safe.
When Brian Williams was found guilty of making stuff up at NBC, he was removed from his anchor desk. But Fox News is fighting back against the Mother Jones report that Bill O'Reilly has a "Brian Williams problem," having inflated his own résumé as a "war zone" and "combat" reporter in the Falklands during his brief early career as a CBS News reporter. O'Reilly has even threatened to come down "with everything I have" to try to intimidate a Times reporter covering the story. Are the contrasting postures of NBC and Fox News just a case of different networks shrewdly playing to their own audiences?
Of course. This is truly an apples-and-oranges situation. NBC News must maintain the illusion that its anchors are trustworthy, even Godlike figures who would never tell a lie. The Williams fiasco threatened to destroy a brand that was already reeling from its ratings declines in daytime (Today) and Sunday (Meet the Press). The exact opposite dynamic prevails at Fox News. As my colleague Gabe Sherman, who literally wrote the book on Roger Ailes, has pointed out, the whole point of O'Reilly and his cohort is to bear arms against their favorite bogeyman, the effete mainstream media. Indeed, it's safe to assume that O'Reilly's battle against Mother Jones is literally the only combat duty he ever has seen or will see.
And so while Williams's lies were seen by many in his audience as a shocking break with his reputation for credibility and probity, everything O'Reilly is doing reinforces the character his fans love and his foes love to hate. He's long threatened and demonized journalists who've crossed him. (I've had my own experience with this, back in the days he went after me for calling Mel Gibson out for anti-Semitism.) He also has a history of veering from the truth and mythologizing his past. Michael Kinsley and Al Franken called him out some dozen years ago for falsely claiming to have won a Peabody Award and for exaggerating his claim to a "jus' folks" blue-collar upbringing. Though as Lizz Winstead tweeted today, in reference to the 2004 sexual harassment suit O'Reilly had to settle: "So the loofah story is still solid right?"
Anyway, this all looks like a win-win for O'Reilly. He may even succeed in stopping people from buzzing about his rising in-house rival, Megyn Kelly, for a while. 
In an Oscars roundup, the Times noted that the show had its lowest ratings since 2009, that it had to compensate for the lack of nonwhite nominees with a "large number of black presenters and performers," and that there was a disconnect between the movies people want to see (as measured at the box office) and those the Academy wants to reward. What are most people not getting about the Oscars, and what is the Academy not getting about the movie-going public?
I think the public gets the Oscars well enough. Viewers tune in for the broadcast when the nominees are movies on their radar screen. This year's Best Picture winner, Birdman, had a total domestic gross of about $38 million as of last weekend. Based on an average movie-ticket price of eight dollars and change, that means it's been seen by a bit over 4.5 million people — just about half the viewership of say, the NBC Nightly News with Lester Holt, and just under a third of the audience of Fox's new prime-time hit Empire. (And Empire, unlike the Oscars, has a black as well as a white audience.) It didn't help this year that the show itself crept along at a pace worthy of a Congressional hearing on C-Span.
The Academy is the Academy. It never really changes and never really learns, and is, like so many legacy media, a deer caught in the headlights of the digital age. The long-term prospects for the Oscar show are not great unless someone figures out how to make it compelling television befitting the Golden Age of television we happen to be in now. You know you're in trouble when a high point of the show is John Travolta's creepy invasion of Idina Menzel's space. And when even the In Memoriam segment is screwed up — by the exclusion of both film clips and Joan Rivers. Death is supposed to be the one thing Hollywood always knows how to do.