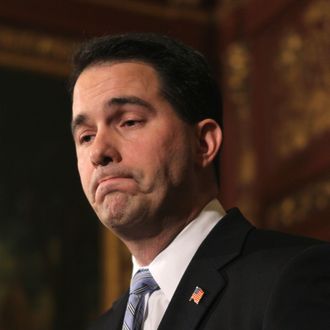 Scott Walker.
Photo: Scott Olson/2011 Getty Images
Taking a page from Chris Christie, last week Scott Walker traveled to London and dodged a basic question about science. "I'm going to punt on that one as well," said the Wisconsin governor when asked if he believes in evolution. "That's a question a politician shouldn't be involved in one way or the other. So I'm going to leave that up to you." (As his interviewer noted, any British politician would have laughed and said, "Yes, of course evolution is true.") Walker's comment didn't spark a debate that could pose a public health risk, but many people still weren't happy — including his former high-school science teacher Ann Serpe. "Answer the question when they ask you!" Serpe told Time. "He could have manned up a bit. That's what I would tell him."
Serpe, who was Walker's teacher and student-government adviser at Delavan-Darien High School in Delavan, Wisconsin, said evolution was definitely part of the curriculum. "We taught the theory of evolution, and human evolution, as a prerequisite to understanding biological classification. I went out and looked at my biology textbook just to make sure," she said, adding, "I don't know the dogma of the Baptist church where Scott's father was the minister, as it concerns evolution. But I do recall that Scott was very accepting of everything in science class. He had a good sense of it."
Last week, Walker tried to smooth things over with a tweet that shed no light on whether he believes in evolution or creationism.
All we do know is that Walker is very disappointed that the media chose to focus on him weasling out of answering an obvious question rather than whatever reason he's concocted for getting some foreign travel under his belt ahead of 2016.