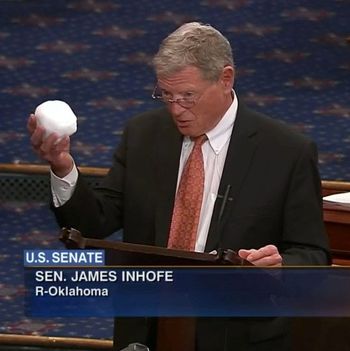 Sen. Jim Inhofe, speaking on the Senate floor with a snowball in his hand.
This afternoon, Senator Jim Inhofe (R-Oklahoma), chair of the Senate Committee on Environment and Public Works, approached the Senate floor accompanied by a small Ziploc bag and a large chart of the igloo his grandkids had built during "Snowpacalypse," the mythical name for the record amounts of snow that fell on Washington, D.C., five years ago.
The items were exhibits A and B in his impending refutation of climate change.
"In case we have forgotten," Inhofe said, "because we keep hearing that 2014 has been the warmest year on record, I ask the chair, do you know what this is?" He had removed the frozen weapon from its plastic cage and floated it above the floor. "It's a snowball, from outside here. So it's very, very cold out. Very unseasonable."
He then threw the snowball onto the Senate floor.
Although Inhofe is not the first lawmaker to question global warming by looking out the window on any given day, many scientists and science journalists have shown that "polar vortex" conditions may be a result of climate change, not a refutation of it. And although we have had a few unexpected chances to make snowballs in the U.S., the trend has been toward more and more unseasonably warm days.