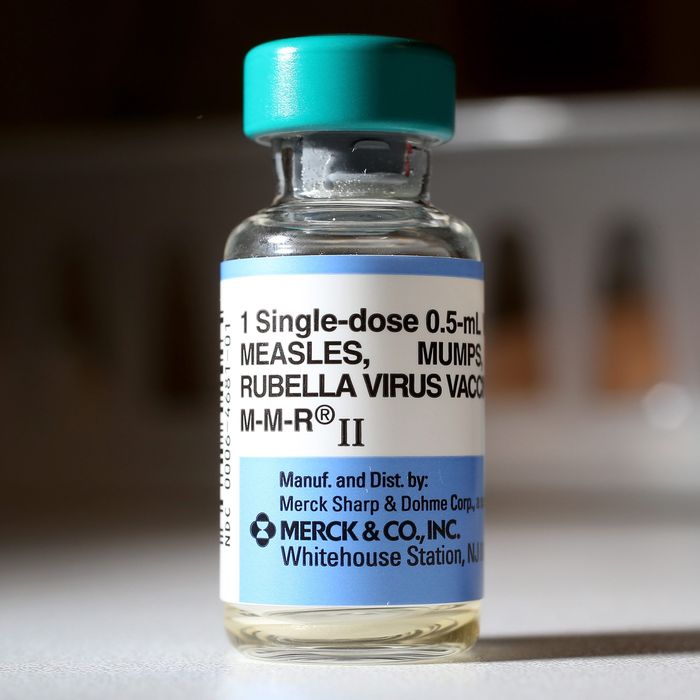 Photo: Joe Raedle/Getty Images
As with many places in the United States, measles has returned to New York. According to several reports, a Bard College student infected with the illness flew into a New York City airport and then took the Amtrak from Penn Station to Rhinebeck, where he was diagnosed. He has not been identified, but anyone who traveled with him has been advised to look out for symptoms of the highly contagious disease, which include fever, cough, white spots on the inside of the mouth, and a rash. According to the Duchess County Department of Health, the patient took the Niagara and Albany-bound No. 238 train out of Manhattan at 1:20 p.m. last Sunday.
NBC New York reports that the student contracted measles in Germany, and it's not clear if his case is directly related to the recent Disneyland outbreak. According to the Poughkeepsie Journal, "The county Department of Health held a measles vaccination clinic on Friday for Bard students, faculty and staff who had not been vaccinated against measles. Officials vaccinated more than 120 people on campus and the county Department of Health, Bard College Health Center and state Health Department are reviewing immunization records 'to assess the level of protection of those on campus.'" Meanwhile, the measles-infected kid is being treated in isolation.
New York had a measles flare-up last year, resulting in at least 20 cases in Upper Manhattan, the Bronx, Brooklyn, and in Manhattan. While the spread seems to have been caused by mistakes made at a single medical facility, it's still not exactly clear how it happened. (Measles was officially eliminated from the U.S. in 2000.) As always, please feel more than free to vaccinate your children.