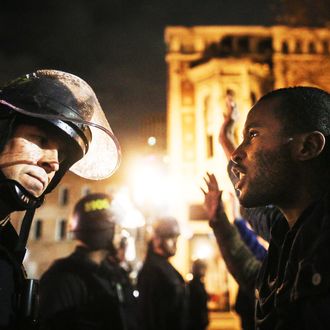 Protesters face off following a Staten Island, New York grand jury's decision not to indict a police officer in the chokehold death of Eric Garner on December 3, 2014 in Oakland, California.
Photo: Elijah Nouvelage/Getty Images
Late on a September night in 2011, a 30-year-old black man named Jerry Benoit was crossing Linden Boulevard in East Flatbush, Brooklyn, when he was approached by a plainclothes policeman who saw him tugging at his waistband — a sign, the sergeant would say later, that he might be carrying an illegal gun. Benoit, who had prior convictions on weapons and armed robbery charges, fled down East 49th Street, allegedly firing two wayward shots at the officer now pursuing him. He disappeared into a back lot, drawing a full stakeout by the NYPD. Finally, with the cordon tightening around him and a police helicopter beating overhead, Benoit made a break for it. Hopping over a fence, he encountered an officer at close range and allegedly fired again. This time the cops shot back, unloading more than 40 rounds at Benoit, who was struck twice.
The case against Benoit took three years to go to trial — typical for New York's backlogged courts. Jury selection began on November 17, 2014, and the attorneys gave their opening arguments on November 20. That night a policeman shot and killed 28-year-old Akai Gurley in the darkened stairwell of an East New York house project. On November 24, the grand jury in Ferguson, Missouri, declined to indict Officer Darren Wilson, and the protests there erupted back into flames. Nine days after that, with testimony in the Benoit case still proceeding, a grand jury in Staten Island declined to indict Officer Daniel Pantoleo in the chokehold death of Eric Garner.
A few weeks later, while the jury was deliberating, Ismaaiyl Brinsley would shoot two cops while they sat in their police car in Bed-Stuy. On the facts, of course, these events should have had no bearing on Benoit and his encounter with the police. Every juror, during the verbal screening process known as voir dire, had assured the attorneys in the case that she or he could judge officers' testimony without bias. Still, lawyers know that objectivity can be slippery. In criminal cases, they regularly worry about the "CSI Effect" — a false forensic expertise among jurors, fed by TV procedurals, that demand unrealistic levels of physical proof in order to convict. But the bigger concern isn't how fake crime dramas affect jurors, but real ones. As the Benoit trial ultimately showed, surges in public opinion about law enforcement have a way of seeping into the courtroom.
"I admit, during the Garner thing I was happy," Benoit's defense attorney, Damien Brown, told me this week. Almost all of the prosecution's witnesses called to the stand in his client's case would be the officers involved that night, so the verdict would rest on the jury's willingness to trust the cops' version of events. (The District Attorney's office declined to comment for this story.) When Benoit was finally taken by police, Brown said, he'd even put his hands up the way Mike Brown famously had. In the courtroom high above Jay Street, Brown worked to harness the impression that New York's police, too, had run wild. He questioned the handling of the evidence. He questioned why no one had taken a statement from Benoit in the hospital. He questioned why the revolver allegedly recovered at the scene showed up in evidence with no serial number on it. (What he did not do was put Benoit on the stand to tell his own story, because the judge had ruled that the prosecution would be able to ask Benoit about the specifics of his prior offenses.)
Brown's best play, he figured, was to use what he knew about the prosecution's star witness, Sergeant Mourad Mourad, the officer who had first pursued Benoit. A year before the trial, Mourad and his partner had shot and killed a Brooklyn teenager, Kimani Gray — something that could sway the jury under any circumstances, but particularly damaging after Ferguson. The judge had barred discussion of the Gray shooting, but Brown made a calculated decision to bring it up anyway. "Isn't it true," he asked Mourad during a testy exchange about the use of force by police, "that you were put on desk duty for shooting and killing a civilian?" The judge "blasted" him for it, he says, but the point had been made. "I knew what I was doing," he said later. "I don't take it back."
"That's something that a lot of attorneys would have done," said Amy Rameau, a prominent Brooklyn defense attorney, of Brown's strategy. "That trial didn't happen in a vacuum." Rameau herself recently helped win a rare indictment of two officers who beat and pistol-whipped a 16-year-old named Kahreem Tribble on a Crown Heights street corner. The attack was captured on video and circulated online, which "absolutely" helped, she told me. "Without a doubt, whatever happens out there does have an effect on our jurors," she said.
But those outside events can cut both ways. The Benoit trial dragged on for more than five weeks, and the jury went out to deliberate at the end of the week before Christmas. That Friday, they acquitted Benoit on three of the charges — those related to an officer in the second shooting, who admitted changing key parts of her story — but were deadlocked on the rest. Then, on Saturday, Brinsley executed the two police officers, Wenjian Liu and Rafael Ramos. The jury returned to the courts building on Monday, but a member of the panel was missing, delaying the deliberations and giving the other jurors even more time to ruminate on the news.  
On Tuesday the 23rd, with their holiday break threatened and the papers "filled," as Damien Brown recalls, with news of the cop killings, the jury shook free its deadlock on the remaining counts. The foreman returned four guilty verdicts: two on assault-related charges and two on charges of criminal possession of a weapon. "Unfortunately, the tragic execution of two police officers helped their ability to reach a compromise," Brown told the Daily News that afternoon.
Sentencing was held on January 16, and the judge, accounting for Benoit's record, handed down the maximum prison term of 40 years upstate. At the hearing, the assistant district attorney who prosecuted the case rose to make a statement. "In the midst of everything going on in this country, in Ferguson and Staten Island and protests outside this courthouse, despite all that, this Brooklyn jury let a message be heard that you can't shoot at police officers," he said.