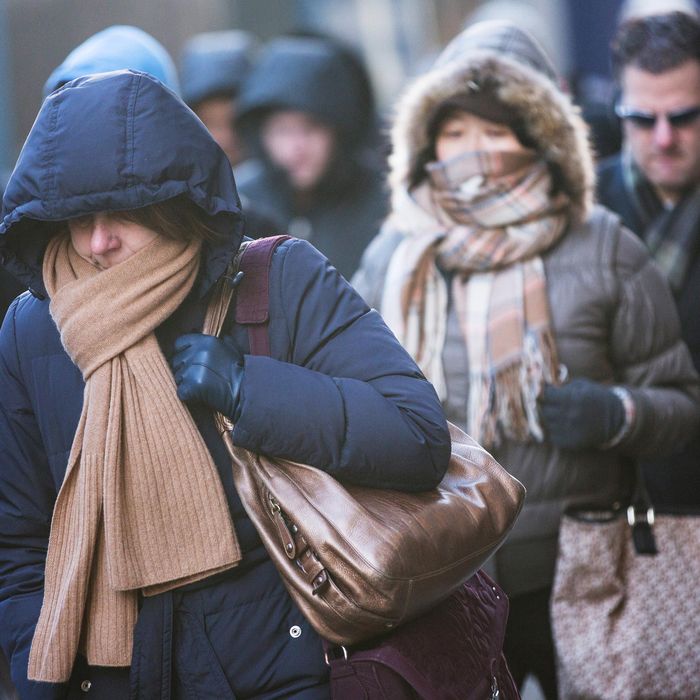 Photo: Andrew Burton/Getty Images
The sensors in Central Park recorded a temperature of 2 degrees Fahrenheit on Friday morning, making today the coldest day of the 2014–2015 winter season by a 1-degree margin. This is perhaps unsurprising, since when we asked a weatherman if it will ever be warm again, he literally laughed.
In addition to being the coldest day of the year, it's also the coldest February 20th ever; the previous low for February 20th was 7 degrees, so at 2 degrees, we beat that pretty handily.
The National Weather Service has issued a windchill advisory for New York through 10 a.m. this morning, warning that the wind could make temperatures feel as cold as 30 degrees below zero, a number I honestly cannot even fathom. And if you're headed into the office, many trains are operating with delays, including the A/C/E, B/D/F/M, and N/Q/R. And, of course, the MTA cold-weather plan is still in effect.
The trend of New York's landmarks freezing over continued this morning, with one Facebook user capturing this footage of a partially frozen East River:
And in Philly, water used to put a fire out by firefighters immediately froze:
Even a natural spring in New York's Letchworth State Park froze this week:
At least we're not alone: The entire East Coast is blanketed in frost, with temps all the way down to Florida registering between 10 and 25 degrees below average. One Kentucky town is even attempting to capitalize on the cold weather by issuing an "arrest warrant" for Elsa, the ice queen from Disney's Frozen. If there's one thing that can unite our divided nation, it's a collective hatred of freezing.