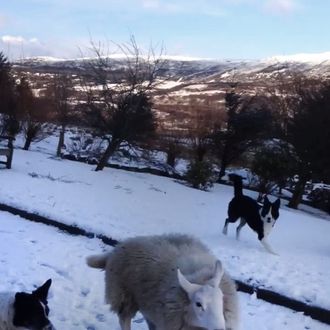 This was, scientifically, the longest week in the history of calendars. I have no data to quote nor articles to link to support that, but we all know it in our hearts to be true. Let's get on with the good things now, so we can all go home and wrap ourselves in a blanket and watch whatever crap they're playing on TLC.
1. The best jobs report of the recovery was released on Friday. The U.S. economy added more than 3 million jobs in 2014, the most created since 1999. Average hourly earnings also increased by 0.5 percent — a tiny amount, but the first increase since 2008.
2. Strangers raised money to buy a car for a man who walked over 20 miles to and from work each day. After learning that Detroiter James Roberston was trekking 21 miles a day to and from his job at a suburban factory, a Wayne State University student started a GoFundMe page to help raise money so that Robertson could afford a car. The page racked up over $200,000 in donations in a matter of days, and Robertson was able to purchase a Ford Taurus.
3. A lamb who was raised with a family of dogs showed off her moves. Pet the lamb grew up with a family of border collies, and YouTube videos show she's getting along just swimmingly.
4. Gay marriage is now legal in Alabama. A federal appeals court declined to appeal a federal judge's decision to overturn Alabama's gay marriage ban until the Supreme Court rules on it. This means same-sex couples can start getting married in Alabama starting on Monday.
5. Twitter finally addressed its abuse problem. Though it was suspiciously timed to leak just before the company's earnings call, a memo written by Dick Costolo finally acknowledged that Twitter users — specifically female users — are being driven away from the service owing to trolls, and that he's going to hold himself personally accountable for fixing the problem. "We're going to start kicking these people off right and left and making sure that when they issue their ridiculous attacks, nobody hears them," he promised.
6. New Ebola cases in Liberia, Guinea, and Sierra Leone dropped below 100 this week for the first time since June. In fact, people are now contracting the virus at such a slow rate that the developer of the experimental Ebola drug Chimerix has decided to discontinue its trial, as there weren't enough patients to give the drug to. "It's more important to end the outbreak than to get the trial done," a public-health specialist told the Times.
7. We finally received a promising indication that the younger generation will be better than its forebearers. Ty Wick for president.