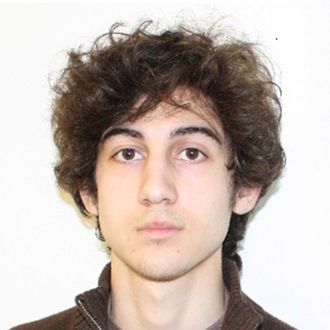 Once again, Dzhokhar Tsarnaev has failed to get his case heard somewhere outside the immediate vicinity of the 2013 Boston bombing. On Friday, a three-judge panel from the U.S. Court of Appeals rejected Tsarnaev's request for a change of venue, despite his lawyers' claim that their client cannot get a fair trial in Boston, where nearly every potential juror has some connection to the 20-year-old's alleged crimes. The decision was split two-to-one, with judges Sandra L. Lynch and Jeffrey R. Howard ruling that Tsarnaev's trial should remain in Boston, and judge Juan R. Torruella dissenting. 
From the Boston Globe:
Citing other highly publicized cases tried near the locations of the crimes, including the 1993 World Trade Center bombing in New York City, Lynch and Howard found that pretrial publicity occurs in any high-profile case, but that public knowledge "does not equate to disqualifying prejudice."

They wrote that, despite Tsarnaev's claim that prejudice against him is too pervasive for an impartial jury to be selected, already more than 60 "provisionally qualified" jurors have been identified, though those potential jurors are still subject to challenges by attorneys.

The judges wrote: "Every potential juror in the Eastern Division of Massachusetts is automatically disqualified, he maintains. That alone is a remarkable assumption about the five million people in the Eastern Division and one much to be doubted."
Meanwhile, Torruella argued that media coverage of the bombing has been "unparalleled in American legal history." "Boston has been terrorized and victimized, and deep-seated prejudice against those responsible permeates daily life," Torruella continued. "It is absurd to suggest that Tsarnaev will receive a fair and impartial trial in the Eastern Division of the District of Massachusetts. The actions taken by this court today pave the way for a trial that is fair neither in fact nor in appearance." 
This is the second time that a court has denied Tsarnaev's request to relocate his trial. (A January motion to delay jury selection in light of the "prejudicial similarities" between the Boston Marathon bombing and the then-recent Charlie Hebdo attacks was also denied.) The defense team now has the option to appeal the decision before a group of six judges.