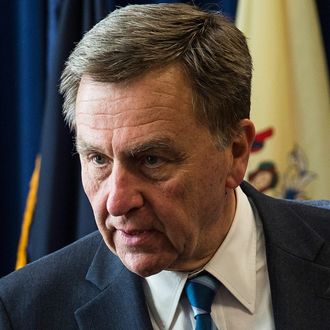 Photo: Andrew Burton/Getty Images
The perks of being the chairman of the Port Authority of New York and New Jersey include snarling traffic for the heck of it, arranging job contracts for your own law firm, and, perhaps, bespoke air travel. The Record reports that United Airlines may have created a flight route especially for then–Port Authority chairman David Samson to fly between Newark and Columbia, South Carolina, 50 miles from where he spent his weekends. Dinner with his girl on his own route is Samson's idea of an update.
Reportedly nicknamed "the chairman's flight" by insiders, the 50-seat regional jet flew Thursday night from Newark to Columbia, and Monday morning from Columbia to Newark. The flight operated for 18 months and was canceled three days after Samson resigned in March, timing that is not at all suspicious.
Federal prosecutors have launched an investigation into Samson's relationship with United Airlines, but so far there's no smoking gun proving the flight was created specifically for Samson. His spokesperson declined to comment.
Kids, one day you too could have your own airline route, if only you are rich in money or bankrupt in morals.