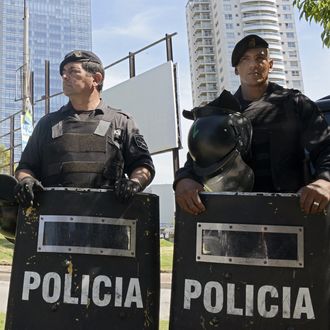 Photo: Mario Goldman/AFP/Getty Images
As Argentina is recovering from the murder of a prosecutor determined to investigate the government's role in covering up Iran's alleged part in orchestrating the 1994 bombing of a Jewish center, Uruguay finds itself with an oddly similar drama. The small Latin American nation says it expelled an Iranian diplomat in January on suspicion that he was involved in placing an explosive device near the Israeli embassy earlier that month, according to Israeli sources.
Though the January 8 explosion took place outside the building that houses the Isreali embassy on an upper floor, Israeli officials believe it may have been a test to see what the embassy's emergency response is like. Uruguayan intelligence apparently traced the bomb back to the Iranian embassy. Uruguay quickly communicated their findings to Israel, which decided to keep the incident on the down low, at least until sources conveyed the story to Haaretz this month.