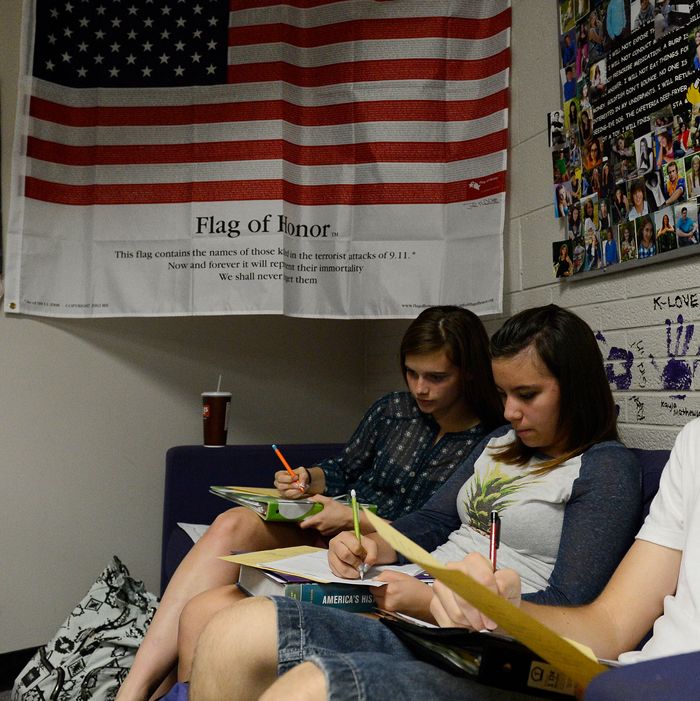 Students in Stephanie Rossi's AP U.S. History class on September 25, 2014. Rossi opposes efforts to change the course in Jefferson County, Colorado.
Photo: Andy Cross/Copyright - 2014 The Denver Post, MediaNews Group.
This week in things we wish were just a Colbert Report sketch, an Oklahoma legislative committee overwhelmingly approved a bill that would cut funding for the teaching of Advanced Placement U.S. History. The 11 Republicans who approved the measure over the objections of four Democrats weren't trying to win over Oklahoma's lazy high-school juniors. Tulsa World reports that Representative Dan Fisher, who introduced the bill, lamented during Monday's hearing that the new AP U.S. History framework emphasizes "what is bad about America" and doesn't teach "American exceptionalism." It's a complaint that's been spreading among mostly conservative state legislatures in recent months and has some calling for a ban on all AP courses.
Earlier this month, the Georgia state Senate introduced a resolution that rejects a new version of the AP U.S. History course for presenting a "radically revisionist view of American history" and minimizing "discussion of America's Founding Fathers, the principles of the Declaration of Independence, [and] the religious influences on our nation's history." It says that if the College Board does not revise the test, Georgia will cut funding for the course. The exam has also sparked controversy in Texas, North Carolina, South Carolina, and Colorado, where students in Jefferson County protested last fall when a school-board member said the course should be modified to promote "patriotism" and discourage "civil disorder, social strife, or disregard of the law."
The conservative lawmakers' issues with the course, which was taken by 344,938 students in 2013, can be traced back to retired high-school history teacher Larry S. Krieger. Two years ago, the College Board released a revised framework for the exam, which took effect this fall. Krieger was incensed by the changes. "As I read through the document, I saw a consistently negative view of American history that highlights oppressors and exploiters," he said during a conference call in August, according to Newsweek.
Krieger complained that the framework portrays the Founding Fathers as "bigots" and suggests that Manifest Destiny was "built on a belief in white racial superiority and a sense of American cultural superiority," rather than "the belief that America had a mission to spread democracy and new technology across the continent," as he put it. And instead of discussing the "the valor or heroism of American soldiers" during World War II, the course outline mentions U.S. internment camps and moral questions raised by the dropping of the atomic bomb.
It's emphasized throughout the 142-page document that the framework is "not a curriculum." It presents broad "key concepts" and "does not attempt to provide a list of groups, individuals, dates, or historical details, because it is each teacher's responsibility to select relevant historical evidence of his or her own choosing to explore the key concepts of each period in depth." It also claims, "these thematic learning objectives are written in a way that does not promote any particular political position or interpretation of history."
Nevertheless, when Krieger began working with Jane Robbins, an opponent of Common Core, and promoting the issue via op-eds and an open letter to the College Board, conservative groups found plenty of historical interpretations they didn't like. These included everything from more focus on minorities to a reference to President Reagan's "bellicose rhetoric." Their effort got a huge boost when the Republican National Committee adopted a resolution last August that said the framework "reflects a radically revisionist view of American history." The RNC called on Congress to withhold funding from the College Board until it presented a revised version of the exam that "accurately reflects U.S. history without a political bias" and respects the standards of individual states.
Some conservatives were also suspicious of the College Board because its president, David Coleman, helped develop Common Core standards. In response to the RNC resolution, the College Board released a sample test, and Coleman noted in a letter that the new framework was developed before he joined the organization.
However, critics still weren't satisfied with the exam, and some lawmakers have conflated Common Core and the AP. While taking AP courses is voluntary and schools are not required to offer them, during Monday's debate in Oklahoma, lawmakers suggested that all AP exams are an attempt to impose a national curriculum and may violate legislation that repealed Common Core in the state.
Moin Nadeem, an Oklahoma junior currently taking five AP courses, pushed back on Tuesday, creating a Change.org petition that he hopes will convince state lawmakers to change their position, according to Oklahoma Watch. It already has nearly 5,000 signatures. "My heart sank," Nadeem said of the vote. "It's our right to learn. The state can't say what we can and what we can't learn."