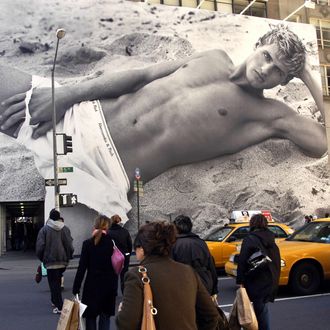 Pedestrians walk by a sexually suggestive billboard on the construction shed of the Abercrombie & Fitch store on Fifth Avenue.
Photo: Richard Levine / Demotix/Corbis
For the infinite time in its hundred-plus-year history, Abercrombie & Fitch has managed to piss people off again. Now the U.S. Equal Employment Opportunity Commission (EEOC) is suing A&F for refusing to hire a Muslim woman who wore a headscarf during her interview.
When Samantha Elauf interviewed at an Abercrombie Kids store in Tulsa, Oklahoma, the hiring manager gave her a low score in "appearance and sense of style." Elauf's hijab, which she wore for religious reasons, violated the company's "looks policy," which stated that employees could not wear hats.
The EEOC sued on behalf of Elauf and won, but A&F appealed the decision. The appeals court ruled in favor of A&F, citing Elauf's failure to explicitly tell the interviewer that she wore the hijab for religious reasons. Now the EEOC is appealing that decision, and the U.S. Supreme Court has agreed to hear the case this spring.
At stake in this case is the interpretation of Title VII, which prohibits employers from discriminating against employees based on sex, race, color, national origin, or religion. Abercrombie argues that it didn't have "actual knowledge" of Elauf's need for religious accommodation, and, therefore, its hiring practices are not discriminatory.
So far, 16 different religious advocacy groups have filed friend-of-the-court briefs in support of the EEOC's case. The Becket Fund for Religious Liberty, which advocates for Buddhists, Christians, Hindus, Jews, Muslims, Zoroastrians, and Sikhs, to name a few, expressed its concern that the appeals court's ruling imposes "a presumption that employees are nonreligious unless they explicitly announce otherwise, essentially creating a standard of 'protection upon request only.'"
This isn't the first time Abercrombie's "looks policy" has come under fire for religious discrimination. In 2013, the retailer updated the policy in response to two lawsuits by Muslim women who were denied jobs because they wore hijabs.