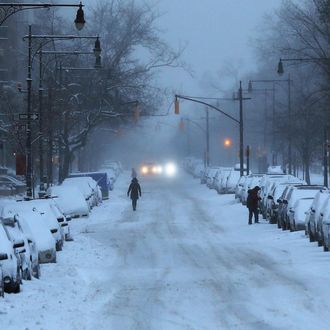 Photo: Spencer Platt/Getty Images
The weather today will be a lot like last Monday's, except worse, because the subways are still running and you're still expected to go into work. Cool way to kick off the week, Mother Nature.
While it snowed overnight, leaving 2.5 inches in Central Park, we can expect a lot more ice and sleet today that will make your commute pretty miserable. The National Weather Service has issued a winter weather advisory for the New York area until 6 p.m. tonight, promising hazardous conditions like sleet and freezing rain through the evening, which will transition into a wintry mix and finally into snow. We can expect to get three to five inches of snow and "a tenth of an inch of ice," so be careful on those subway stairs! (Don't worry, trains are supposedly running on a regular schedule.)
Tonight and tomorrow will be dry but freezing, with wind chills hitting 5 to 15 below zero.
This has been another casual reminder that winter never ends and life is just a series of icy Mondays.