Fans of former Toronto mayor Rob Ford may now procure a number of his personal items, including the football tie he wore when he confessed to smoking crack in November 2013. Yesterday, Ford — now a Toronto City Councillor — tweeted a series of links to items he placed on eBay under the username torontorobford.
The eBay account describes each item as "an original piece of memorabilia," and the lucky winning bidders will also receive an original Certificate of Authenticity signed by Rob Ford himself. The current bid on the NFL logo-studded tie, which is apparently the only one in existence, is currently at nearly $2,500.
Other items up for grabs include a personalized, size 4XL Saskatchewan Roughriders Jersey, which Ford received while attending a game; moose-printed pajama pants that made an appearance during Ford's shopping spree at Walmart; and a "Keep Calm and Carry On" poster that hung in his mayor's office. You can always buy that poster, which hangs in every other college freshman's dorm, elsewhere for $27.99. But since Rob Ford is Rob Ford, his version of the framed motivational phrase could be yours for over $300.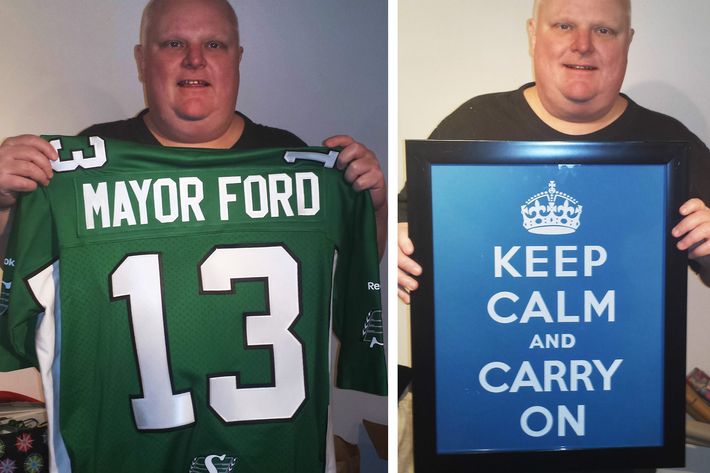 To be fair, Ford, who was diagnosed with liposarcoma last September, is donating 10 percent of the auctions' proceeds to the cancer's research. His assistant, however, according to the Guardian, did not offer details on what Ford plans to do with the rest of his profits.