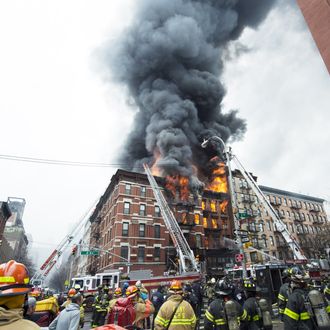 Photo: Joe Marino/NY Daily News via Getty Images
At least two people are still unaccounted for after Thursday's East Village explosion collapsed three buildings and caught fire to a fourth on Second Avenue north of 7th Street. Twenty-three-year-old Nicholas Figueroa was on a lunchtime date at Sushi Park, the restaurant where the explosion occurred, and he has not been seen since the blast. His date is being treated for her injuries at Bellevue Hospital. The other missing person is an unnamed Sushi Park busboy, according to police.
The apparent gas explosion injured 19 people, including 5 firefighters. Four of the civilians are being treated for critical injuries at city hospitals, including burns to the airways. 
A security camera captured footage of the moment of the blast, which someone uploaded to Vine (warning: it's disturbing).
"It was the loudest and most intense explosion I have ever heard," one witness told the Times. "I thought it might be a bomb, some kind of terrorist attack. The whole inside of the storefront, of the restaurant, was outside on the sidewalk where I had just walked."

The cause of the blast is still being investigated, but initial reports indicate that 121 and 123 Second Avenue were undergoing renovations, headed by the Bronx contracting firm Neighborhood Construction. The firm hired a subcontractor who will be named at a later briefing. The Times reports that plumbing and gas work being done at the Japanese restaurant on the ground floor of the building, Sushi Park, did not have the requisite permits. Con Edison had inspected the location just an hour before the blast to see if it was eligible for a gas upgrade, but it failed that inspection. The inspectors did not notice any signs of a gas leak.
Dilber Kukic, the 39-year-old owner of Neighborhood Construction, is reportedly being investigated for his role in the explosion. Kukic told DNAinfo that he "happened to be in the area" and smelled gas coming from the basement. When he opened up the basement door to 121 Second Avenue, it exploded.
"As soon as we opened the basement door, there was an explosion, a fire," Kukic said from a nearby hospital. "It was full of smoke. The debris was on top of me."
Kukic doesn't exactly have a spotless record. Last month, he was arrested in connection with a bribery scam involving city inspectors.