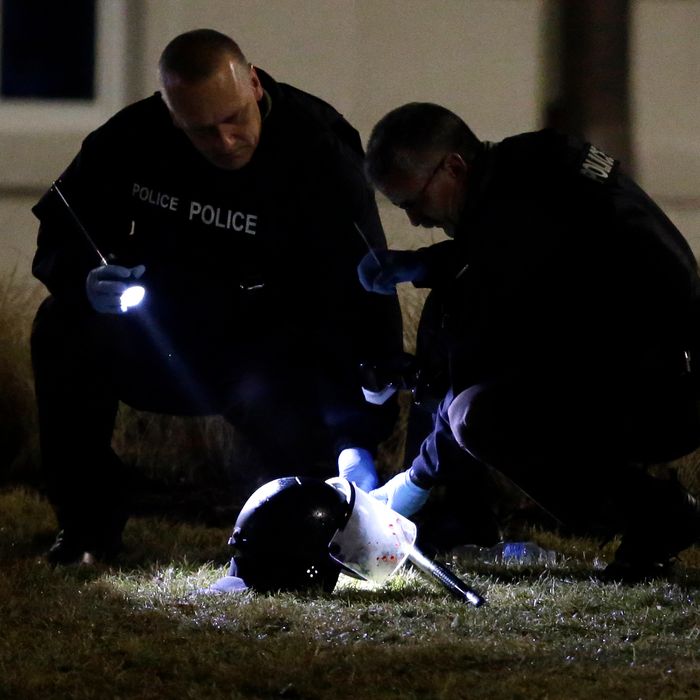 Police investigate a helmet dropped by one of the injured officers.
Photo: Jeff Roberson
Two police officers were shot shortly after midnight during a protest in front of the police station in Ferguson, Missouri. Demonstrators gathered on Wednesday night to celebrate the resignation of the city's police chief, Thomas Jackson, and call for Mayor James Knowles III to step down. There had been some skirmishes and arrests earlier in the evening, but the protest was dying down when about four shots rang out. The 60 to 70 protesters ran or tried to take cover, and freelance journalist Bradley Rayford said, "I saw a cop on the ground, obviously in pain; they had to drag him from the front lines."
St. Louis County Police Chief Jon Belmar said at a press conference outside Barnes-Jewish Hospital that the two officers are conscious, but they've sustained "very serious" injuries. A 41-year-old officer from the St. Louis County police department was shot in the shoulder, and a 32-year-old officer from the Webster Groves police department was shot in the face. "These police officers were standing there, and they were shot – just because they were police officers," Belmar said.
The shooting was captured in a blurry live-stream:
And this Vine shows people scrambling afterward:
During the press conference, Belmar suggested that the shots came from the protesters, saying, "I don't know who did the shooting, to be honest with you right now. But somehow they were embedded in that group of folks." However, multiple witnesses say the shots were actually fired over the protesters' heads, from a hill across from the police station.
Mike Kinman said the scene was "really pretty mellow" when he arrived about five minutes before the shooting, with people "standing around talking" in the parking lot across from the station. "The shots definitely came up from behind us, up the street," he said. "It definitely did not come from the protesters."
Rayford told the St. Louis Post-Dispatch that he saw several muzzle flashes from Tiffin Hill, a residential neighborhood located behind the parking lot where the protest took place. Most people dispersed following the shooting, and at 2:30 a.m. about two dozen officers began searching the hill for evidence and taking statements from the remaining protesters.
Wednesday night's demonstration was the most significant since the grand jury's decision not to charge officer Darren Wilson in the death of Michael Brown was announced in November. Last week the Department of Justice said it would not file civil rights charges against Wilson, but released a damning report that found police and court officials in Ferguson guilty of racial bias and raising money by unfairly ticketing and fining residents. Five Ferguson officials have resigned in the last week.