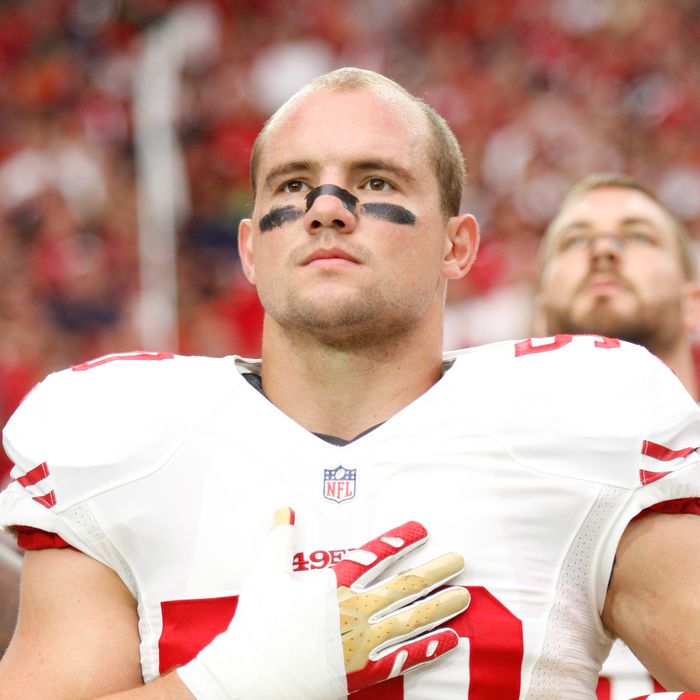 The 49ers Chris Borland stands for the anthem prior to the game against the Arizona Cardinals on September 21, 2014 in Glendale, Arizona.
Photo: Michael Zagaris/2014 Michael Zagaris
In a groundbreaking move, San Francisco 49ers linebacker Chris Borland announced on Monday night that he's retiring after just one season in the NFL — though he's healthy and has a promising career ahead of him — due to concerns about the long-term consequences of repeated head trauma. The 24-year-old told ESPN writers Mark Fainaru-Wada and Steve Fainaru, who co-authored the 2013 book League of Denial: The NFL's Concussion Crisis, that he made the decision after consulting researchers and former players about the link between football and neurodegenerative disease. "I just honestly want to do what's best for my health," Borland said. "From what I've researched and what I've experienced, I don't think it's worth the risk."
Borland's decision comes after a successful rookie season, in which he was named the NFC's defensive player of the week during a game against the New York Giants. He replaced All-Pro linebacker Patrick Willis when he sustained a toe injury after six games, and since Willis announced his retirement last week, Borland was expected to play an even bigger role next season.
Even more incredibly, Borland hasn't had many head injuries. He's only been diagnosed with a concussion twice — once while playing soccer in middle school and again while playing football in high school — but said he began reconsidering a career in the NFL following an injury in training camp last year. Despite sustaining what he believed was a concussion during a running play, Borland kept going because he was trying to make the team. "I just thought to myself, 'What am I doing? Is this how I'm going to live my adult life, banging my head, especially with what I've learned and knew about the dangers?'"
While he feels fine, he said he's worried that if he waits until he starts showing symptoms, it will be too late. "I just want to live a long healthy life, and I don't want to have any neurological diseases or die younger than I would otherwise," he said. Borland has a bachelor's degree in history from the University of Wisconsin and said he plans to go back to school, possibly to pursue a career in sports management.
Borland said his decision had nothing to do with the 49ers. "It's an incredible organization, and they truly looked out for players' best interests," he said.
"While unexpected, we certainly respect Chris' decision," 49ers general manager Trent Baalke responded. "From speaking with Chris, it was evident that he had put a great deal of thought into this decision. He was a consummate professional from day one and a very well respected member of our team and community. Chris is a determined young man that overcame long odds in his journey to the NFL and we are confident he will use the same approach to become very successful in his future endeavors. We will always consider him a 49er and wish him all the best."
Many current and former NFL players tweeted messages of support as well: