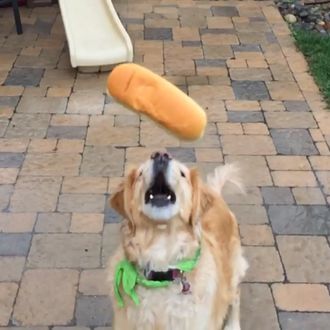 Sure, it's going to snow this weekend, and warm weather is just a fleeting memory you once had, but at least you won't have to go to work. Here are eight actually good things that happened this week to kick off your Friday evening.
1. The Ebola virus hasn't mutated into a more lethal strain. At the beginning of the Ebola outbreak, scientists worried that the virus had mutated into something more lethal and transmissible than they'd ever seen before. Luckily, those fears appear to be unfounded, as the Times reports that mutations the virus during this outbreak follow a known pattern, meaning the "tests used to diagnose Ebola patients, and vaccines and drugs being developed to prevent and treat the disease, can continue to be based on the typical mutation rate." And in other good Ebola news: The American aid worker who was recently diagnosed with the virus is improving — this week the patient's condition was upgraded from critical to serious.
2. A baby leopard had his first-ever bath. And somebody recorded it so we can all squee at its adorableness for the rest of time.
3. You may never have to fight the ketchup bottle again. You know that annoying thing where you have to shake the ketchup bottle with all the strength in your body to force a tiny dribble to come out? Yeah, science just solved that for you. A new nonstick coating called LiquiGlide is beginning to develop partnerships with companies who want to license their technology for products like glue and — hopefully soon! — food condiments. LiquiGlide means you'll never waste another drop of ketchup again.
4. Leah Still's cancer is in remission. Leah Still, the adorable 4-year-old daughter of Cincinnati Bengals player Devon Still, has won her battle against cancer, according to the Huffington Post. Devon frequently shared photos and posts on social media about his daughter's struggle, and he has also appeared on morning shows to discuss her progress. Congrats, Leah!
5. Serena Williams made her own version of Beyoncé's "7/11." And it is glorious.
6. A man received a $7 million winning lottery ticket in a get-well-soon card. Joseph Amorese received a get-well card from his father after surgery that included a scratch-off lottery ticket. When he scratched it off, he found the ticket was worth $7 million. It's unclear whether he's planning to split the money with his dad, but that's clearly the right thing to do.
7. New Yorkers came together in a time of crisis. When the horrible East Village explosion happened yesterday afternoon, civilians rushed to each other's aid in the immediate aftermath, some helping to console victims while others worked to help people escape from the burning building. An off-duty fireman, Mike Shepherd, happened to be eating lunch around the corner when he heard the blast. He was able to help a girl trapped at 121 Second Avenue unlock the fire escape ladder so that Austin Branda, a drummer who'd also been in the area, could shoot up the ladder and help the girl climb down.
8. A golden retriever named Fritz learned to catch. Okay, he's actually incredibly terrible at catch (is he blind???), but A for effort.