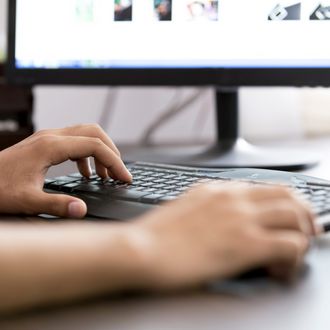 Abid Nasser argues that he was looking for a wife while posing as a woman and talking with men posing as women online.
Photo: Getty Images
A jury in Brooklyn is scheduled to start deliberating the case of 28-year-old Abid Naseer, who argues he was trying to find a wife on the internet, not help Al Qaeda bomb a shopping mall. Assistant U.S. Attorney Zainab Ahmad argues that Naseer used fictional girlfriends to update the Al Qaeda operative he regularly spoke to in online chat rooms on his bomb-making progress. "Think about it," Ahmad said, "two guys talking about cars and girls, nothing could seem more normal." 
Nadia, the prosecutor argued, was the code name for the bomb. Naseer, a graduate of Flushing High School in Queens who was arrested in the United Kingdom — and could face life in prison — represented himself, and referred to himself in the third person during the entire trial. "He wanted to settle down," Naseer said of his communication with at least nine different email accounts, all owned by men posing as women. "Is there anything wrong with that?" 
"Did anyone tell this court … this guy is connected to Al Qaeda? The bottom line is, no." In his closing argument, Naseer repeated his strongest defense — he was just "chasing women on the internet."
Naseer's two alleged co-conspirators, also from Queens, have been accused of planning an attack on the New York City subway.
In one email with an Al Qaeda operative in April 2009, Naseer mentioned a party in Manchester. Prosecutors argued the party was in fact the planned attack. Naseer argued in court, "My reference to holding a huge party and trying to include as many as possible was referring to the intended wedding."
During the trial, MI5 officers gave evidence while wearing wigs and makeup to hide their identities. One piece of evidence, a letter sent to Osama bin Laden updating him on the plots in Manchester and New York, had been recovered during the operation that ended in the Al Qaeda leader's death in May 2011.
U.S. Attorney General Loretta Lynch watched at least part of the trial.