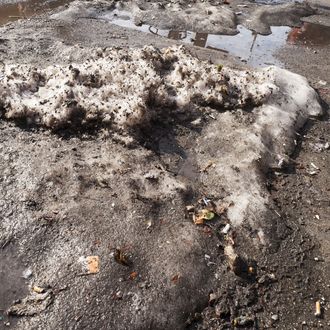 Photo: Richard Levine/Demotix/Corbis
Nothing like the death of one season and the rebirth of another to remind us that New Yorkers are disgusting slobs with zero respect for the environment. As the temperate weather melts the snow and we begin to consider complaining about spring, many are looking around our fine city and thinking: Ew.
New York, as it turns out, is less a winter wonderland than it is a city situated at the peak of Garbage Mountain, all of us happily living our lives atop piles of candy wrappers and old retainers.
Ah, New York in springtime.