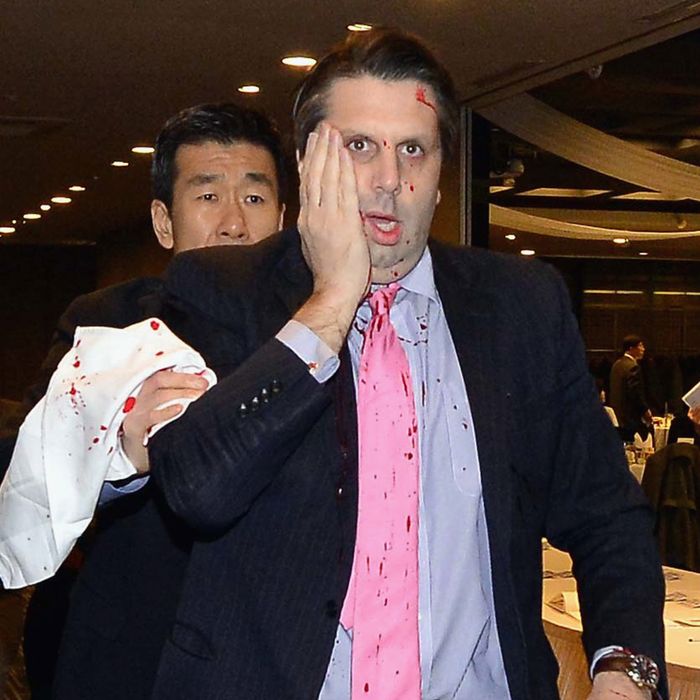 Mark Lippert after the attack.
Photo: Handout/The Asia Economy Daily via Getty Images
U.S. ambassador Mark Lippert was slashed in the face and wrist on Thursday morning in Seoul by a knife-wielding man who screamed, "South and North Korea should be reunified." According to the AP, a witness said Lippert was at a breakfast organized by the Korean Council for Reconciliation and Cooperation, where he was set to speak about the prospects for peace on the Korean peninsula, when a man from another table ran up to him, wrestled him to the ground, and cut him. He underwent surgery at a Seoul hospital and is in stable condition.
Police have identified the suspect, who was detained by witnesses, as 55-year-old Kim Ki-jong. A police source said he's staged violent protests over unrelated issues in the past, including throwing a piece of concrete at the Japanese ambassador to South Korea in 2010 and trying to set himself on fire in 2007.
Doctors at Yonsei University's Severance Hospital said Lippert suffered a four-inch cut on his face, which required 80 stitches, but will not affect his nerves or salivary gland. He also sustained stab wounds in his left arm and hand while trying to fight off his attacker. The nerves connected to his pinkie and the tendons connected to his thumb were damaged, and the ambassador is expected to have sensory problems in his hand for several months.
State Department spokeswoman Marie Harf said the embassy in Seoul is working with local law enforcement, adding, "We strongly condemn this act of violence." Both President Obama and Secretary of State John Kerry called Lippert in the hospital. "He's good as can be expected, his spirit is strong," Kerry said of Lippert, who served in the Navy. "He tends to soldier on, or as he said to me, sailor on."
Later, Lippert underscored that point in a tweet:
This post has been updated throughout.