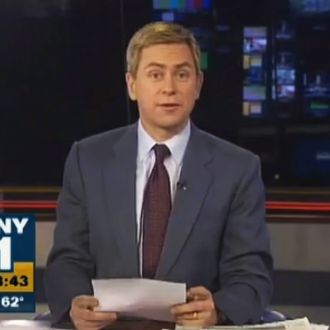 A new poll released from Quinnipiac University shows that American voters trust news programs that tell them about juicy neighborhood gossip or whether they should go outside today more than national news programs that cover Congress or llamas. Seventy-one percent of respondents trust local news coverage a great deal or somewhat. Fox News comes second place in the trust hierarchy, with 55 percent of respondents trusting its coverage a great deal or somewhat. 
However, when you pull Walter Cronkite into the discussion, respondents became far more morose about the state of the national news — only 7 percent of Americans think that today's news is more trustworthy than what they could watch during the famous newscaster's heyday. Eighteen- to 34-year-olds, having only heard their parents complain about the fact that zombie Walter Cronkite was not reading the news, were the most confident that the news is just as good now as it had been back in the day. 
The poll also asked respondents about Brian Williams, who is currently suspended from NBC because of exaggerations found in his reporting. Forty-two percent of those polled think that he should be allowed to return to reading the news. Fifty-two percent of respondents did not know enough about the investigations into exaggerations in Fox News' Bill O'Reilly reporting to know whether he should be fired, suspended, or left alone. Quinnipiac University also asked a question about who should replace America's most trusted news anchor, who works for Comedy Central instead of a major media organization. Nineteen percent of respondents think Tina Fey should replace Jon Stewart on The Daily Show, while 37 percent didn't care enough to answer the question.