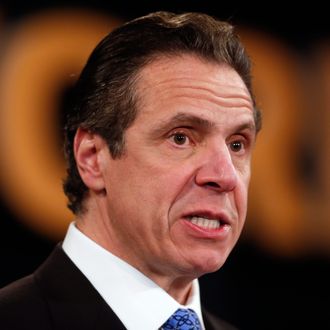 Help?
Photo: Mike Groll/AP/Corbis
It's always been a bit of a mystery, even to Governor Andrew Cuomo's allies: What is his real goal in picking a fight with the state's teachers' unions? "I don't get it," a Cuomo adviser told me last fall, not long after the governor declared he wanted to "break what is in essence one of the only remaining public monopolies."
"Sure, everyone wants incompetent teachers, or teachers who have sex with their students, removed from the classroom," the Cuomo ally said. "But I don't understand how he gets those things or better public education with this strategy."
The governor's adversaries in the unions think that the motivation is pretty simple, and highly cynical: That Cuomo, by talking tough, is trying to ingratiate himself with the hedge-fund backers of charter schools, like Ken Langone, who have also been generous donors to Cuomo's campaigns. In this view, Cuomo will cave on most of his other proposals — like merit pay and stiffer teacher evaluation standards — as long as he gets a higher cap on the number of charter schools in the state.
Maybe that's true. But call me naïve — I think Cuomo sincerely wants to find ways to better educate the state's students, which is why his confrontational approach has always seemed weirdly miscalculated.
Evidence of the governor's tactical troubles arrived today in a Quinnipiac poll. Cuomo's job approval rating has sunk to 50 percent, the lowest it's been since he took office in January 2011. Other issues are clearly dragging down Cuomo's numbers — especially the revival of Albany's cartoon image as a cesspool of corruption since the mid-January arrest of longtime Assembly speaker Sheldon Silver. But the governor's grades when it comes to his handling of education are starkly negative: Only 28 percent of voters polled think he's doing a good job.
In some respects, Cuomo is to be lauded for bluntly taking on entrenched interests. He's right that the power of the unions has produced a crazily expensive system long on bureaucracy and short on educational results. But his current blunt-force approach doesn't account for the affections and anxieties of public-school parents. "It's kind of like attitudes toward Congress," an education insider says. "People hate the institution and think it's broken — but they love their local congressman. There's the same emotional attachment to individual teachers and local schools, even the ones that don't work very well, so the governor's attacks make people feel protective." And Cuomo's push to increase the role of testing hits an especially raw nerve with politically active middle-class parents.
Today's poll numbers won't help the governor achieve his agenda. But he still has some important numbers in his favor — budget numbers. Cuomo has given legislators a big incentive to pass most, if not all, of his plan: an increase in state education spending of $1.1 billion if his ideas are enacted, as opposed to a boost of $377 million if they are rejected (where Cuomo could show real political bravery is by directing the bulk of that money toward poorer school districts).
There could also be (apologies for the pun) a political silver lining to the recent flurry of corruption headlines: The unions lost a huge ally when Shelly Silver was ousted from the speakership, and his replacement, Carl Heastie, is an unknown quantity when the deal-making comes down to three men in a room. Cuomo and Heastie just announced an ethics-reform agreement that seems to give the governor most of what he wanted (whether the State Senate Republicans get onboard is another question). But we'll probably need to keep waiting, until the April 1 state budget deadline, to see whether anyone can deliver the common sense things — like more early intervention literary programs and better training for teachers — that the state's schoolkids really need.