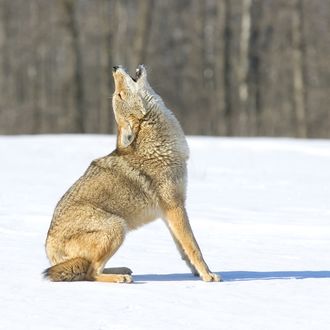 "You will pay for what you've done, humans."
New Yorkers have always had to deal with your typical urban pests — roaches, rats, bedbugs — but our city environment largely protects us from the beasts of the wild. Unfortunately, a recent spate of wild animal encounters has convinced me that the great and inevitable animal-human war has launched in earnest in New York City.
Snowy Owls were spotted on Governors Island back in February, and The Wall Street Journal reported on Monday that as bald eagle sightings increase in the Bronx, America's favorite predator will likely begin to nest in the borough's tall trees. But it's not just birds who are returning to reclaim their land.
Over the weekend, an East Harlem man was attacked by a pack of baby squirrels who were born inside his couch cushions. And yesterday, a coyote appeared on the roof of a Long Island City bar, coincidentally on the exact same night a band called Coyote Anderson was scheduled to play a show there. Typical coyote intimidation tactics. Just classic.
The animals are coming and there is nothing we can do to stop them. The best we can do is move to New Jersey and wait for the sinkhole to swallow us.