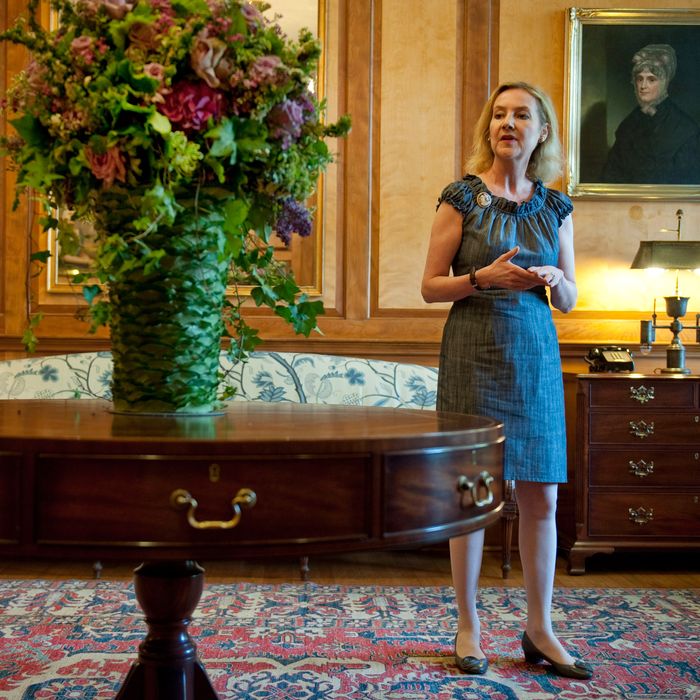 What happened to the White House chief florist?
Photo: Marvin Joseph/The Washington Post via Getty Images
One week after Representative Aaron Schock resigned owing to a controversy that could claim an interior-decorating debacle as its catalyst, a mystery with a similarly aesthetic theme has taken root at the White House.
The Washington Post reports that White House chief florist Laura Dowling was seen being escorted from the executive mansion on the day before Valentine's Day, and, at first, no one was sure quite why. An anonymous source told the Post, "I'm not sure what the reason is. But I can think of a few."
Dowling released a statement through her law firm stating that she resigned to "pursue exciting new opportunities." Kate Andersen Brower, author of "The Residence: Inside the Private World of the White House, told the Post, "This absolutely comes from the top. The first lady has the final say."
And with those few crumbs of information, everyone has begun wondering about a White House role that many people probably didn't even know existed. "Under what shadow of slinking intrigue has the White House florist been banished?" asked The Guardian. "Are the groundskeepers safe? Will the pastry chef be spared? What about the carpenter, who is also the beekeeper?" "There's more than a whiff of intrigue surrounding the hasty and barely mentioned departure of the White House florist," wrote the New York Post. 
The Washington Post updated its story on the politics of working in political horticulture today. One local florist reporter the Post talked with, who "spoke on the condition of anonymity because 'the floral community is very small, and nobody wants to put down anybody's work,'" said that Dowling's designs were "just different. I'm not sure if it was right for the White House." The story goes on to say that Michelle Obama began unveiling a more modern interpretation of White House decor — including a custom-made Mad Men–esque rug — only days before Dowling was last seen on the premises. 
The CEO of the Society of American Florists, Peter Moran, was unable to offer his read on the biggest mystery to hit the gardening world since Professor Plum did it with a monkey wrench in the conservatory. He only met Dowling once briefly, and has never seen her work.
The last White House chief florist, Nancy Clarke, worked for six different presidents. She retired in 2009 and died three years later. Clarke wrote a memoir about her time at the White House, in which she noted, "Pleasing the first lady was more important to me than anything else."
According to a Wall Street Journal dispatch on Clarke's retirement, Michelle Obama loved "tall, clear cylinders of forsythia, oncidium orchids and cream-colored cymbidium orchids," while Hillary Clinton preferred "tropical flowers, such as birds of paradise and pincushions." Nancy Reagan "had a strong preference for Venus peonies in soft, blush colors, even when they weren't in season."