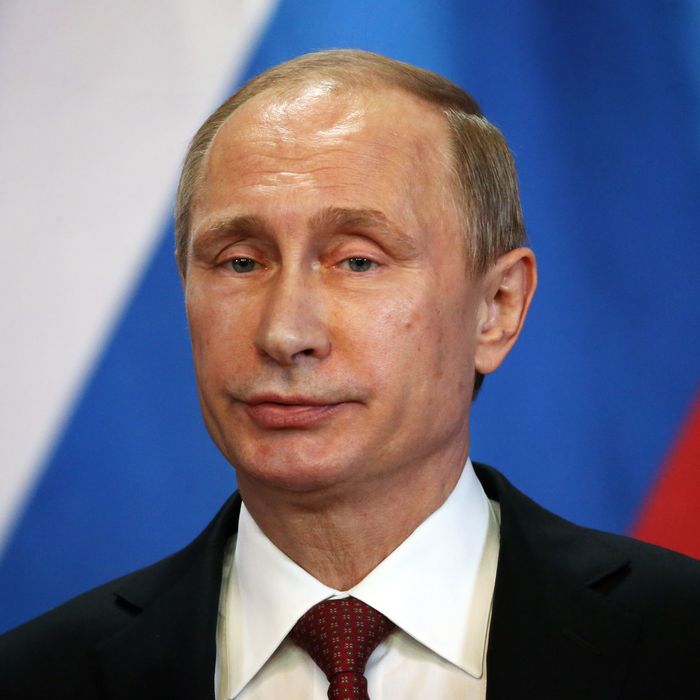 Vladimir Putin is unimpressed by the theories you have managed to come up with concerning his whereabouts.
Photo: Sasha Mordovets/Getty Images
No one has seen Russian President Vladimir Putin in public since March 5, when he met with Italian Prime Minister Matteo Renzi. Since then, he has canceled several meetings and sparked Carmen Sandiego levels of interest in his whereabouts. The Kremlin has also released old photos of Putin, claiming that they are from meetings held in the last week. On Friday, Russian State Television aired footage of Putin working from home, but news organizations haven't been able to confirm that the video is definitely from today. 
Journalists in Russia seem to think that the 62-year-old leader is ill. Putin's spokesperson, Dmitry Peskov told reporters on Thursday that Putin's health is "really perfect" and that his handshake could still "break your hand." He added, "As soon as the sun comes out … and it starts smelling of spring, people start getting delusions." 
Peskov has experience in coming up with exciting ways to describe his boss's health; last year, after the New York Post alleged that Putin had cancer, he said, "Bite your tongue! Everything's fine." Wondering what's up with Putin is an annual international event; in 2012, the world thought Putin had been injured after flying with a flock of cranes in a hang glider, which is why he hadn't been seen in a while. Peskov denied the allegations, saying Putin was suffering from a previous sports injury. 
There are hashtags — #WhereIsPutin and #PutinIsDead — that have been used to track people's more outlandish reasons for Putin's disappearance. Theories so far range from recovering from Botox to joining ISIS. Despite the rampant rumors, the markets in Russia haven't budged.