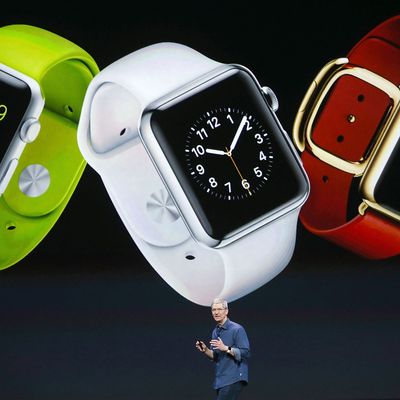 Apple CEO Tim Cook speaks during an Apple special event at the Flint Center for the Performing Arts on September 9, 2014 in Cupertino, California.
Photo: Justin Sullivan/Getty Images
In case you have (wisely) muted the term "Apple" from your Internet browsing experience, you know that the tech giant announced its first official foray into wearable technology back in September with the creation of the Apple Watch, expected to ship next month. During that media event, Apple introduced three different versions of the highly anticipated wrist computer — Apple Watch Sport, Apple Watch, and Apple Watch Edition. This morning, during a special event in Cupertino, the company revealed more key facts about the device, including its official release date: April 24.
Because the watch face is too small to rely on typical touchscreen gestures like pinch to zoom, Apple has come up with a variety of new movements in order to navigate the device. In addition to a side dial — or, in Apple parlance, a "digital crown" — the watch will also respond to "force touch" commands that can "distinguish between a light tap and a deep press." 
According to the presentation, Apple watches will feature:
Customizeable watch faces: You decide which widgets show up on the watch face. You can also pick which pretty theme works for

 

you

"

Glances": Wearers can swipe up to receive quick info like heart rate, or swipe to read and respond to messages, and take and make

 

calls.
Take and make calls: "A built-in speaker means you can talk into your watch like you're on Star Trek."
Digital touch: Billed as a "whole new way to communicate," digital touch lets you draw little animations on your own watch and let your friends view them in real time. If you tap your watch, your friend will feel it on their watch. We never have to be alone

 

again!
Fitness tracking: The app comes with a bunch of health features, such as a run keeper and a reminder for when you've been sitting too long. It also sends you a weekly move report with new

 

goals.
Notifications: "Any notification you can receive on iPhone, you can receive on Apple

 

Watch."
Passbook: By using the Passbook app, you can pull up your boarding pass right on your

 

wrist.
Open hotel room and garage doors: You can open your door at hotels like the W by pressing a button and holding your Apple Watch up to the door. An app called Alarm.com lets you open your garage door using the

 

watch.
An 18-hour battery

 

life.
All of these are cool, but most of them are things you can already do on your phone, which you already own.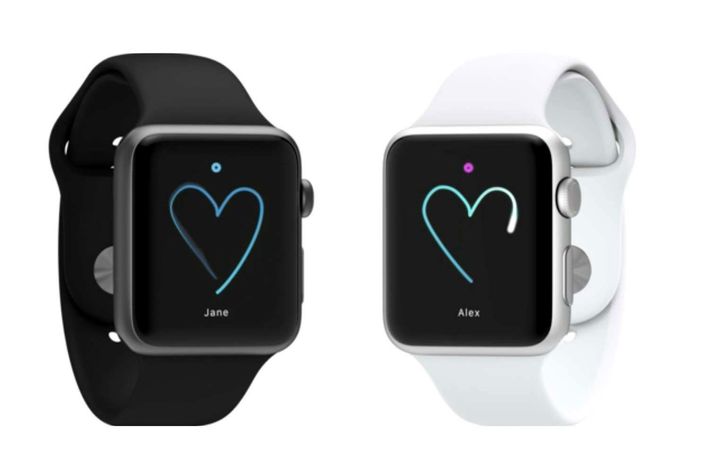 The Apple Watch comes in three different varieties:
Apple Watch Sport: For the sporty Apple fan! The device comes in "Silver" and "Space Gray," which seem like the same color? The face is made of a lightweight aluminum, though you can choose from a variety of five neon colors for the band. The starting price for this fancy wrist computer is

 

$349.
Apple Watch: For anyone who prefers a classic look. The device is made of stainless steel and comes in silver and black. It starts at $549 and goes up to $1,099, depending on how much storage you need or what kind of fancy band you

 

get.
Apple Watch Edition: For the luxury consumer. We expect Kimye to be sporting one of these in a matter of weeks. It's made out of special 18-karat gold and sapphire crystal. This baby starts at $10,000, so I hope you weren't planning to send your kids to

 

college.
At least now we will have an easy way to tell the nerds from the rich nerds.