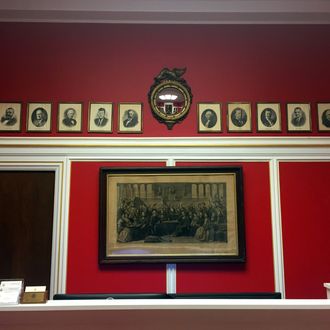 To paint or not to paint?
Photo: Ben Terris/The Washington Post via Getty Images
After former Representative Aaron Schock's resignation, there is a new question legislative candidates need to be prepared to answer — how will you decorate your office? While campaigning today, Darin LaHood, who's running for Schock's seat, was asked whether he plans to repaint his forebear's now-infamous bright red office space at the Capitol. The Republican state senator in Illinois wouldn't say. "That'll be a good problem to solve if I'm fortunate enough to get elected, but I'll worry about that if and when I'm elected." Next week we assume he will be asked about his favorite Instagram filter for selfies.