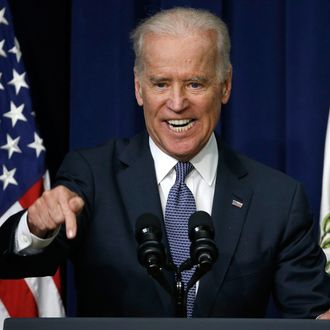 Joe Biden.
Photo: Win McNamee/Getty Images
How angry is the White House about the letter Republican senators sent Iran in an attempt to scuttle a nuclear deal? Angry enough to take Joe Biden up on his daily offer to berate the president's foes in a long, irate letter. "I served in the United States Senate for 36 years," said the vice-president in a statement. "I believe deeply in its traditions, in its value as an institution, and in its indispensable constitutional role in the conduct of our foreign policy. The letter sent on March 9 by 47 Republican senators to the Islamic Republic of Iran, expressly designed to undercut a sitting president in the midst of sensitive international negotiations, is beneath the dignity of an institution I revere."
Biden criticized the senators' condescending "constitutional lesson," saying their threat to undo any deal they don't like once Obama leaves office "ignores two centuries of precedent and threatens to undermine the ability of any future American president, whether Democrat or Republican, to negotiate with other nations on behalf of the United States." He added, "Under Presidents of both parties, such major shifts in American foreign policy as diplomatic recognition of the People's Republic of China, the resolution of the Iran hostage crisis, and the conclusion of the Vietnam War were all conducted without Congressional approval."
The vice-president went on to accuse his former colleagues of sending a message "that is as false as it is dangerous," and noted that they offered no alternative for curtailing Iran's nuclear program. "The decision to undercut our President and circumvent our constitutional system offends me as a matter of principle," he said.
When Joe Biden says your behavior is out of line, it's time to check yourself.