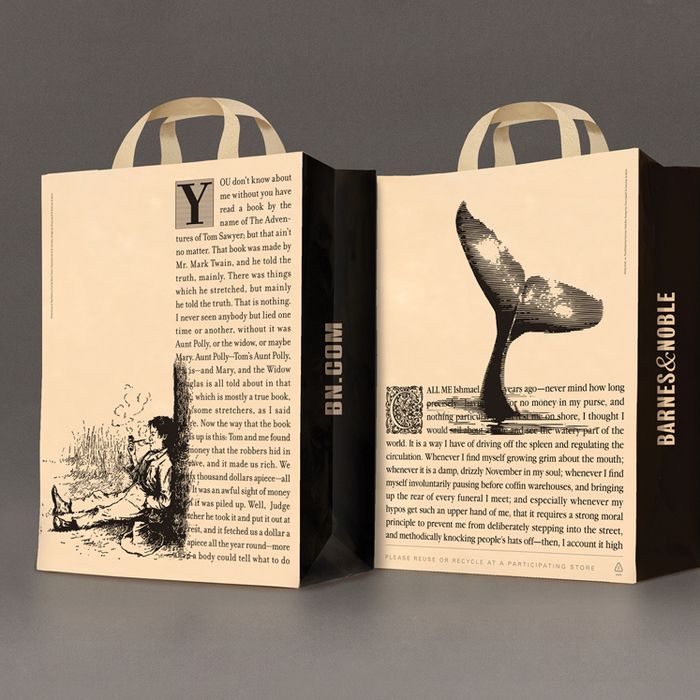 The internet has not been kind to Barnes & Noble. Amazon manages to offer cheaper books and a more successful ereader. B&N was forced to close many of its locations in recent years as profits slowed.  
Last year, the book retailer went so far as to start selling craft-beer kits to attract customers. This month, however, Barnes & Noble has a novel strategy to help improve business, and it involves exposing one of the greatest flaws of Amazon's shopping model: the lack of plastic bags.
"You don't get a shopping bag when you shop online — you get a box," Glenn Kaplan, Barnes & Noble's creative director, told Bloomberg. 
It's inarguably true; Amazon may have cheaper books, but they don't have fancy plastic bags. Barnes & Noble's redesigned bags look like pages of classic novels run through Instagram's Earlybird filter, and 100 million of them are scheduled to start appearing at the nearly 700 stores still remaining. 
The design firm tasked with creating the bags argues that "this new shopping bag series does more than promote the brand itself; it reflects the love of books and itself provides a book experience — you can even start reading them on the way home." 
Bloomberg adds that you don't even need to buy books to love these plastic bags.
Shoppers who prefer a box of Godiva chocolates to a book will still walk away with a literary-themed bag, and B&N intends for the disposable carrier to find aspirational reuse — just as some shoppers repurpose their status-infused Tiffany, Barneys, or Organic Avenue bags as lunch totes. 
In short, we will soon know whether a bookstore unable to force people to buy books will survive because people want to have a picture of Moby-Dick on their reusable grocery bag. (Tune in next time when Amazon customers share their love for the minimalist and oh-so-reusable cardboard box.)