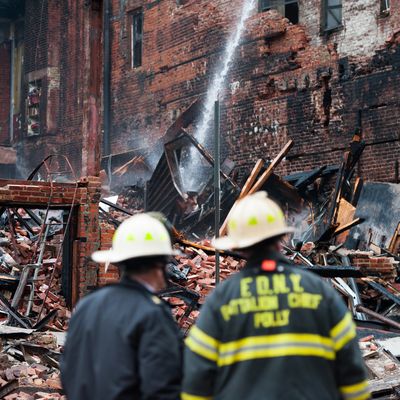 Firefighters continue to hose down rubble from the East Village buildings on March 27, 2015.
Photo: Nancy Borowick-Pool/Getty Images
Two bodies were found on Sunday afternoon in the rubble of the three East Village buildings destroyed in an apparent gas explosion last week. One has been identified as 23-year-old Nicholas Figueroa, who was on a lunch date at Sushi Park, the restaurant located on the ground floor of 121 Second Avenue, on Thursday afternoon. The second body has not been officially identified, but fire commissioner Daniel Nigro said "everyone who was reported missing has been found," according to the New York Times, suggesting the second body is that of 27-year-old Moises Ismael Locón Yac, who was a busboy at the restaurant.
Workers have been digging through the debris left from the seven-alarm fire that tore through the buildings and using dogs to search for remains. A city official told ABC News that workers have sifted through 750 cubic yards of debris twice at the site, and some rubble has been taken to a second location to be examined more closely for evidence or remains. Searchers have encountered "hot spots" that are still smoldering, but the cleanup effort is moving quickly. Workers may be done by Tuesday, days earlier than predicted.
An official told the AP that workers have reached the basement and will stop digging when they get close to the front wall. That area must be searched closely for evidence of what caused the blast.
Con Edison officials said on Saturday that seven months ago they learned the gas line into Sushi Park had been tapped, creating a "hazardous situation." All gas to the building was shut off for about ten days while the owner made repairs. Gas was restored when the utility determined the problem had been safely fixed.
Hyeonil Kim, the owner of Sushi Park, told the New York Times that he reported the situation in August, saying, "We smelled gas, so we dialed 911." He says only his restaurant was authorized to receive gas, but workers determined that gas was being siphoned from the line and fed into the newly renovated apartments upstairs. Kim said he kept checking to make sure his gas line wasn't being tapped, and he suspects the landlord had started stealing gas from the building next door, 119 Second Avenue. A tenant at 121 Second Avenue told the paper that he didn't recall any significant disruption in gas service since he moved in last summer.
On Thursday Sushi Park's manager called the landlord, Maria Hrynenko, to report the strange odor, but officials say no one contacted Con Edison or 911 to report a possible leak. Hrynenko checked on the odor with a general contractor and was injured in the blast. The landlord has not responded to the media's requests for comment.
This post has been updated to note the victims have been identified.