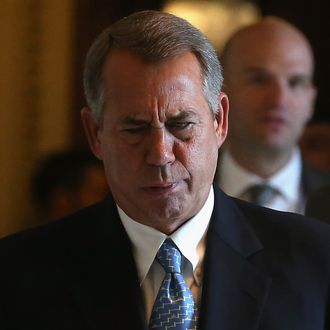 Photo: Mark Wilson/Getty Images
Speaker of the House John Boehner announced that the House will vote on a clean funding bill for the Department of Homeland Security this week — perhaps by the end of the day. 
News organizations have reported that Boehner told his colleagues that a partial shutdown was not an option: "With more active threats coming into the homeland, I don't believe that's an option. Imagine if, God forbid, another terrorist attack hits the United States." Boehner attacked Senate Republicans for not trying harder to punish the White House for its executive action on immigration, but said, "The good news is that the president's executive action has been stopped, for now. This matter will continue to be litigated in the courts, where we have our best chance of winning this fight."
Many conservative Republicans are sure to vote against the clean funding bill; it will require the support of House Democrats and Establishment House Republicans.