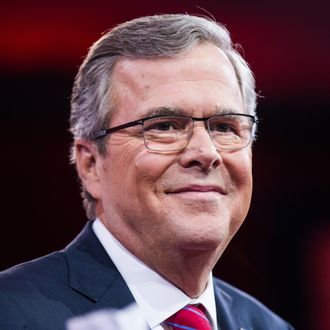 Photo: Brooks Kraft/Corbis
Former Florida Governor Jeb Bush has been touring the country, trying to get Republicans psyched up about the idea of another Bush in the White House — and maybe raise a few million dollars on the way. The trip has proven a great success. Maybe too great, as Bush is now setting a contribution limit on his two political action committees, Right to Rise, and telling donors not to give more than $1 million, at least for now. One Republican fund-raiser told the Washington Post, "This campaign is about much more than money. They need substantial funds, but they don't want the focus to be on money."
Bush has previously tried to counter the idea that his campaign is all about money by discussing his plan to help the poor at a fund-raiser held at a hotel "built a century ago by an oil baron … with rooms going for $1,900 or more per night."
Several donors have already passed the limit, with nearly a year to go until the 2016 presidential primaries even begin. According to the Tampa Bay Times, Bush's team hopes to raise more than $100 million for the Right to Rise Super PAC, with the probable candidate free to help fund-raise as long as his campaign remains in an nebulous non-announced zone.
The funds raised by the PAC helped Bush bus supporters to CPAC this year, trying to counter protests and a crowd that wasn't too sure about him.
Ready for Hillary PAC, a pro–Hillary Clinton super PAC, has held several fund-raising events with a $20.16 entrance fee, likely trying to harness the wide small-donor pool that proved valuable to Barack Obama during his two presidential campaigns.
Bush next heads to Iowa this week for the first time since 2012. He will eat pizza and barbecue, attend an agricultural summit, and help a freshman representative raise some money.