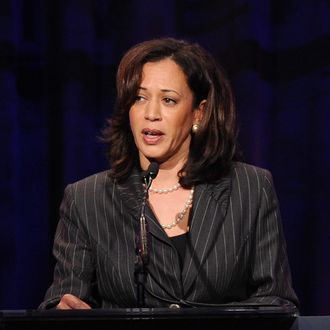 Kamala Harris.
Photo: Kevin Winter/2011 Getty Images
In 2016 Californians may be able to vote to legalize the killing of gay people by "bullets to the head" or "any other convenient method," if State Attorney General Kamala Harris's effort to block the ballot initiative is unsuccessful. Harris is tasked with providing an official title and summary for voter-proposed initiatives, but on Wednesday she asked the Sacramento County Superior Court to relieve her of that duty regarding the "Sodomite Suppression Act." "In this case, we are talking about a proposal that literally is calling for violence. It's calling for vigilantism," Harris told the Sacramento Bee. "I, frankly, do not want to be in the position of giving any legitimacy to those words."
Huntington Beach attorney Matthew McLaughlin was able to file the measure for a fee of just $200 last month. It's unclear if his proposal was sincere or just a particularly odious bit of trolling, but all that's come of it are calls to amend California's ballot initiative process and have McLaughlin disbarred.
Still, if the court doesn't intervene, McLaughlin will have 180 days to collect more than 365,000 signatures to put the measure on the ballot. While one would think it goes without saying, the L.A. Times notes that it's "considered an incredible long-shot to pass even if it ended up on a ballot." So rest assured that California probably isn't going to legalize killing gay people.