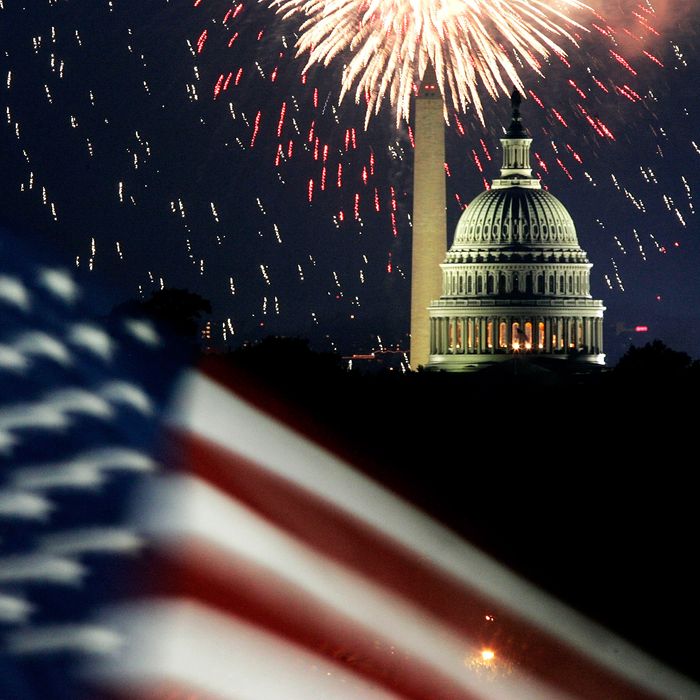 We, the people of the United States, in order to form a more perfect union, establish justice, ensure domestic tranquility, provide for the common defense, promote the general welfare, and secure the blessings of liquids to ourselves and our posterity.
Photo: Alex Wong/Getty Images
CNN reports that congressional law-enforcement officials are sick of dealing with all the "coolers containing liquids" and the general bad behavior those liquids cause at Memorial Day and Fourth of July festivities at the Capitol.
These holiday concert receptions have grown more popular (and rowdier) in recent years, and the Capitol Police have given out a lot of overtime to try to manage the Dionysian revelry. It has not been easy; CNN notes that "there have been falls and injuries that were blamed on excessive drinking, according to a congressional source who said there was a near fall from a balcony that could have been catastrophic." Law-enforcement officials sent congressional leaders a letter earlier this month saying that this year's invite list should be far more exclusive.
And in case you were wondering how coolers containing liquids could cause so much mayhem, CNN adds that "'liquids' is a euphemism for alcohol, according to the multiple congressional sources."