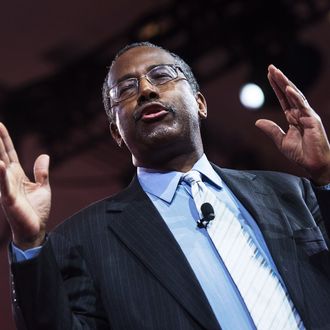 Photo: Nicholas Kamm/AFP/Getty Images
Well-known neurosurgeon and potential Republican presidential contender Ben Carson went on CNN this morning to discuss Obamacare on the day the legislation faces the Supreme Court for the second time. New Day host Chris Cuomo then segued into another issue snaking through the court system — same-sex marriage — and asked Carson whether he believed being gay was a choice.
"Absolutely," Carson said. "Because a lot of people who go into prison go into prison straight — and when they come out, they're gay. So, did something happen while they were in there? Ask yourself that question."
After asking himself that question, Cuomo noted that most gay people do not go to prison. 
Carson did not back down, and said that he said "a lot," not "all." "Are you denying that that's true? If in fact that is the case, then it obviously thwarts what you just said."
Carson also said the debate over same-sex marriage could be easily resolved, since the legal rights afforded to married couples could be extended to same-sex couples without labeling it marriage. "Why do gay people want to get married? Why do they say they want to get married? Because they want to have various rights — property rights, visitation rights. Why can't any two human beings, I don't care what their sexual orientation is, why can't they have the legal right to do those things? That does not require changing the definition of marriage."
Like many Republicans eyeing a presidential nomination, however, Carson said this was a matter better left to the states. Carson just announced the formation of a presidential exploratory committee this week. It is called CarsonAmerica.