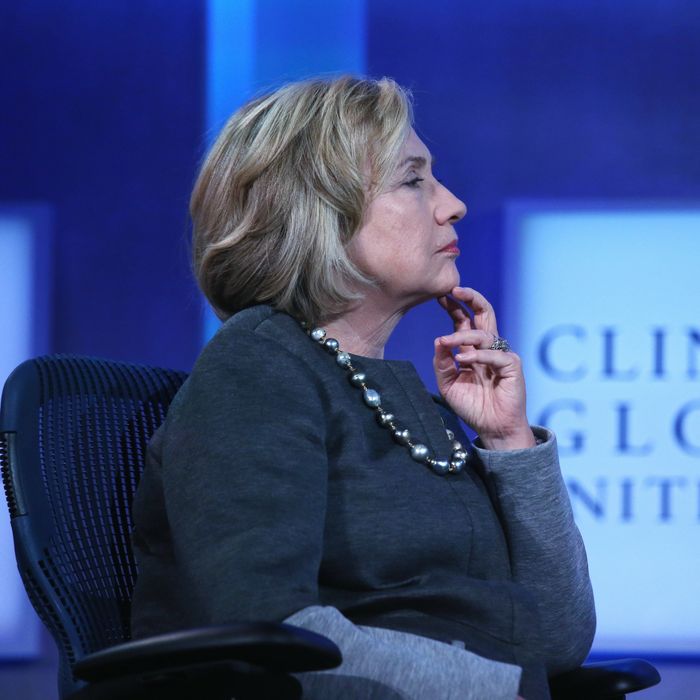 Hillary Clinton listens during the opening session of the Clinton Global Initiative, on September 22, 2014.
Photo: John Moore/2014 Getty Images
The average voter probably isn't going to turn against Hillary Clinton because she used a personal email address at the State Department, but would they change their opinion due to her general lack of transparency? Probably not, since most people already know how the Clintons operate, but we're still going to spend the next 20 months digging through their questionable business practices. Today, there are actually two reports that suggest the Clinton Foundation was less than forthcoming. Despite the Clintons' promise to stop seeking donations from foreign governments and publish a complete list of donors during Hillary's time as secretary of State, the charity continued to collect money from individuals with close ties to other governments and stopped disclosing the names of those who donated to its flagship health program.
Former president Bill Clinton made the pledge to the Obama administration back in 2008 to avoid accusations that foreign governments were making huge donations to the Clinton Foundation to curry favor with the secretary of State. However, as The Wall Street Journal notes, "The ban wasn't absolute; some foreign government donations were permitted for ongoing programs approved by State Department ethics officials." The paper reported last month that the foundation resumed taking donations from foreign governments after Clinton left the State Department in 2013 and officially joined the foundation. (It was subsequently renamed the Bill, Hillary & Chelsea Clinton Foundation, though putting Hillary's name on the charity ahead of the 2016 election only invites more scrutiny.)
Now the Journal reports that the foundation never stopped accepting money from foreigners with close ties to their governments. More than a dozen foreigners were top Clinton Foundation donors during that time, giving between $34 million and $68 million total. These include a member of the Saudi royal family and a former member of the Ukrainian parliament who was simultaneously lobbying the State Department to pressure Ukrainian president Viktor Yanukovych to free his predecessor from jail.
Naturally, all of the donors said they gave money to the Clinton Foundation for purely charitable purposes, and foundation spokesman Craig Minassian said, "Like other global charities and nongovernmental organizations, the Clinton Foundation receives support from individuals all over the world because our programs are improving the lives of millions of people around the globe."
We know about these donors because in 2009 the Clinton Foundation published what it said was a complete list of more than 200,000 donors, and they kept it updated over the years. However, according to Reuters, it stopped releasing the names of donors to the Clinton Health Access Initiative (CHAI) in 2010. That's when the health program, which spends more than all of the charities' other initiatives combined, was spun off into a separate legal entity.
Foundation officials acknowledged that CHAI was subject to the agreement made with the Obama administration, but did not explain why it wasn't honored. "Not doing so was an oversight which we made up for this year," said CHAI spokeswoman Maura Daley, referring to a donor list published for the first time this year. That list excludes the names of those who made small donations that totaled less than $1 million altogether. Daley said those donations "did not warrant posting."
There was some positive news for Clinton on Thursday. She gave what was likely her last paid speech before announcing her candidacy, addressing a trade group for professional camp counselors in Atlantic City for an estimated $200,000. So that's one financial controversy that the Clinton camp can cross off the list.