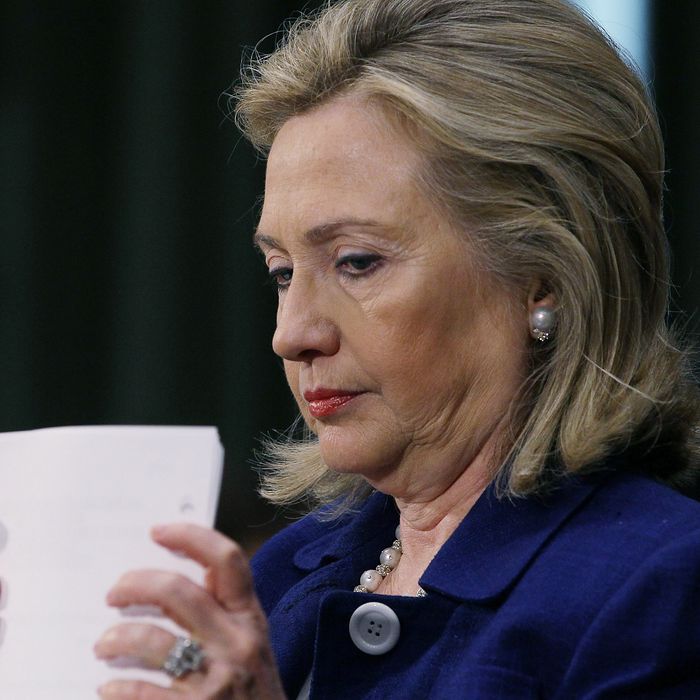 Photo: Mark Wilson/2011 Getty Images
The revelation that Hillary Clinton exclusively used a private email address during her time as secretary of State, and set up her own server linked to her home address in Chappaqua, New York, left many with the impression that she really didn't want anyone rifling through her emails. The setup allowed Clinton to keep her correspondence out of government archives and away from those who filed Freedom of Information Act requests — however, in her first public comment on the matter, she claimed that wasn't her intent. "I want the public to see my email," she tweeted late on Wednesday night. "I asked State to release them. They said they will review them for release as soon as possible."
A Clinton spokesman had no comment on the tweet and referred questions about the release process to the State Department. Deputy Spokesperson Marie Harf put together this statement after midnight:
The State Department will review for public release the emails provided by Secretary Clinton to the Department, using a normal process that guides such releases. We will undertake this review as quickly as possible; given the sheer volume of the document set, this review will take some time to complete.
A House committee investigating the 2012 attack in Benghazi is aiding Clinton in her new quest for transparency. On Wednesday, the panel issued subpoenas for all Benghazi-related emails from Clinton and other State Department employees. (Gawker has alleged that top aides used clintonemail.com addresses while conducting State Department business, and the New York Times reports that, "Obtaining an account from that domain became a symbol of status within the family's inner circle, conferring prestige and closeness to the secretary.")
The panel already received 300 of Clinton's emails, which were culled from the 55,000 pages of email records that the former secretary gave the State Department two months ago. Representative Trey Gowdy, the committee's chairman, argued that they don't know if they have all of the relevant documents, since Clinton's team chose which emails to turn over for archiving. "The fact is the State Department cannot certify that they have produced all of former Secretary Clinton's emails because they do not have all of former Secretary Clinton's emails, nor do they control access to them," he said.
Representative Elijah Cummings, the top Democrat on the panel, countered that his Republican colleagues are just fishing for information. "Everything I've seen so far has led me to believe that this an effort to go after Hillary Clinton, period," he said.
But they're not the only ones taking legal action over Clinton's email. Judicial Watch, a conservative watchdog group, filed a lawsuit on Wednesday demanding Clinton's communications with the wife of ousted Egyptian president Muhammad Morsi. They said the State Department failed to comply with their previous FOIA requests for the documents.
The Associated Press is also considering legal action after a number of its FOIA requests over the past few years went unanswered. "We believe it's critically important that government officials and agencies be held accountable to the voters," said the AP's general counsel, Karen Kaiser.
Presumably, Clinton is eager to make all of these documents public and to smooth over relations with the press — which is why she promptly addressed their inquiries about the email scandal with a single tweet posted in the middle of the night.