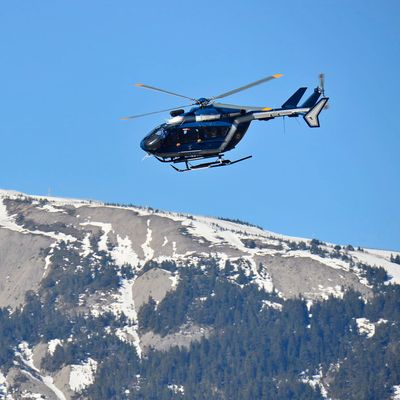 84500151
Photo: Getty Images
German authorities searched the house of co-pilot Andreas Lubitz — who appears to have deliberately caused the Germanwings plane crash — on Thursday, and found two doctor's notes in the trash. One relieved Lubitz from work duties on the day of the crash; the other was torn apart. German prosecutors concluded that this evidence supports "the preliminary assessment that the deceased hid his illness from his employer and colleagues." On Saturday, investigators revealed that Lubitz had vision problems that may have interfered with his ability to fly. Authorities have not said whether the eye issues were related to the psychological condition Lubitz was also receiving treatment for. 
The Federal Aviation Office in Germany said that they had a medical certificate on file that cleared Lubitz to fly despite a medical condition. Investigators have not found a suicide note.
Lufthansa CEO Casten Spohr said on Thursday that Lubitz "was 100 percent flightworthy without any limitations," although he did take a break from training for unknown reasons six years ago. If it were owing to a medical issue, German privacy laws would not allow that information to be released to the public. According to Bloomberg, the airline may face unlimited liability for payments to families of the 150 people who died in the crash.
The German aviation doctors association's president told The Guardian that "it's utterly irresponsible that he flew even though he had a certificate saying he was not ready to work, and was therefore unfit to fly. Everything he did was highly criminal." The Royal College of Psychiatrists issued a statement telling those watching the developments to be careful about making quick judgements. "We do not yet know what might be the lessons of the loss of the Airbus," Professor Sir Simon Wessely, president of the College said, "but we caution against hasty decisions that might make it more, not less, difficult for people with depression to receive appropriate treatment. This will not help sufferers, families or the public."
Prosecutors are still not completely sure of why the other co-pilot — revealed on Saturday to be Patrick Sonderheimer, a pilot with more than 6,000 of relevant flight time — who was locked out of the cockpit at the time of the crash had left in the first place; prosecutors at this point say it seems likely he was going to the bathroom.
At the crash site, rescue workers continue to pick through debris searching for remains on Friday. The mountain terrain being searched is icy and dangerous; workers needed to be dropped onto the site by helicopter. 
Read more of Daily Intelligencer's coverage of the crash here.