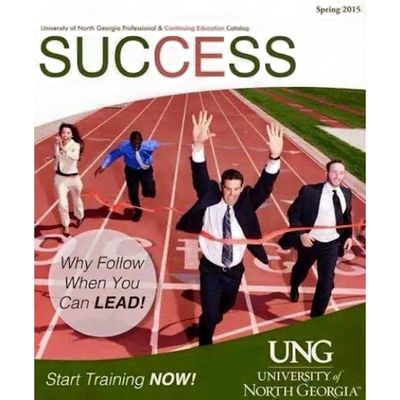 The cover of the University of North Georgia's course catalogue does not beat around the bush: Featuring a stock photo that shows two white men in suits beating a woman and a black man at a race, it proves that you can automatically win anything you put your mind to, as long as you are a white man. If that's not the American dream, I don't know what is.
After an article about the tone-deaf image appeared in the Atlanta Journal Constitution, the University of North Georgia decided to pull the catalogue from circulation and remove the photo from its online presence. "After looking into the issue, we determined that this is an isolated case of poor judgment, and was not intentional," a university spokesperson told the Constitution.
Since it's a stock image, UNG isn't the only group using it in marketing materials. A Google image search for the photo reveals hundreds of results. Maybe that Lean In stock-photo project wasn't such a bad idea after all.