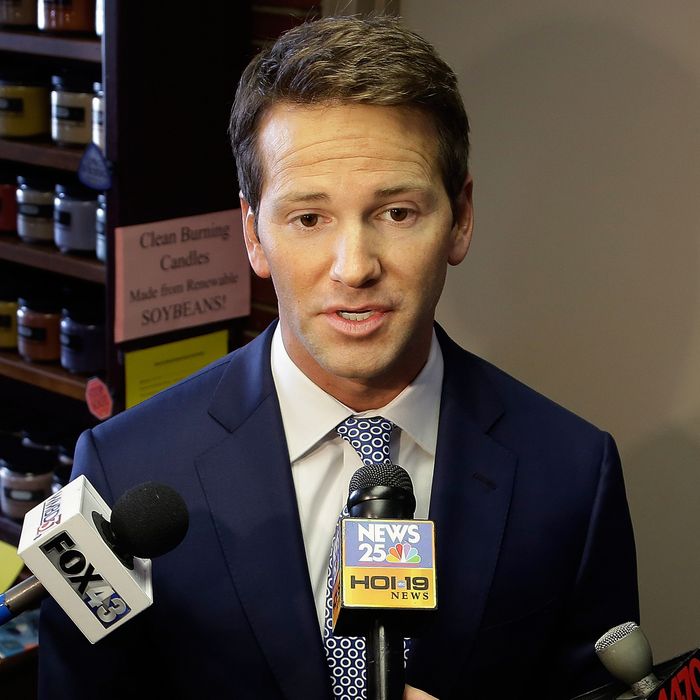 U.S. Rep. Aaron Schock speaks to reporters before meetings with constituents after a week in which he faced twin scandals.
Photo: Seth Perlman/AP
Representative Aaron Schock resigned from Congress today after a month of questions into his office's use of taxpayer and campaign dollars, which involved an office decorated Downton Abbey style, a Chicago Bears game, pheasant feathers, massages, a selfie at a Katy Perry concert, and an elected official quoting Taylor Swift. 
Politico published the latest math problem to plague Schock's office shortly before the representative's announcement. Schock was reimbursed for driving nearly 170,000 miles in his Chevy Tahoe between 2010 and 2014. When he sold the SUV in 2014, however, there were approximately 80,000 miles on the odometer. Either Schock knows Doc Brown, or his office got reimbursed for about 90,000 miles he never drove. Schock is not the first Illinois representative to be questioned about mileage reimbursement. As Slate points out, Abraham Lincoln was accused of the same thing.
"Serving the people of the 18th District is the highest and greatest honor I have had in my life," Schock said in a statement. He later added, "But the constant questions over the last six weeks have proven a great distraction that has made it too difficult for me to serve the people of the 18th District with the high standards that they deserve and which I have set for myself."
The Office of Congressional Ethics had begun reaching out to Schock staffers shortly before the representative's resignation, which may have meant that an official investigation was imminent. Since the nonpartisan entity first began investigating members of Congress in 2009, 46 percent of the reviews they conducted have involved problems with campaign ethics, while another 17 percent have involved travel missteps. 
The representative, who first took office in 2009, will be best remembered for being the first member of Congress born in the '80s. Over the course of his career, he took a selfie with Ariana Grande, appeared on the cover on Men's Health magazine, and was voted Huffington Post's Hottest Freshman in Congress. TMZ asked him if he had better abs than President Obama, the Los Angeles Times called him "the Republican Dream Date," and Time magazine named him one of the most influential millennials of 2013.
He also served on the Ways and Means Committee.
Schock told CNN shortly after taking office that "people who watch TMZ or different mediums don't expect to see their congressman on such a show. They're used to seeing the Britney Spears or the movie star, but to see their hometown congressman on a show like this kind of raises their interest and gets them a little excited."
Schock's last day in Congress will be March 31. Until then, the internet will continue debating whether it is a good idea to make puns with his name.